Posted on Monday June 29, 2020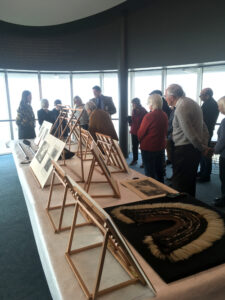 After weeks of isolation and no access to Te Papa, it was a joy to view the Toi Art exhibition Tamatea: Legacies of Encounter with Rebecca Rice, Curator Historical New Zealand Art and Art Historian, David Maskill.
In March 1773 Captain James Cook and HMS Resolution sailed into Dusky Sound, after 110 days at sea. Tamatea, developed in partnership with, explores the legacies of that first meeting between Cook and southern Māori. Entry to the exhibition is fronted by a group of ancient Ngāi Tahu taonga, a little stone turtle, a small rākau atua, and a large hoe, left unfinished.
Tamatea is centred on Te Papa's recently acquired, exquisite William Hodges oil on panel, Waterfall in Dusky Bay with Maori canoe, 1776, on view for the first time. Hodges, the artist on the second of Cook's three voyages to the Pacific, first sketched the scene in April 1773. Also on view is Hodges' A Maori before a Waterfall in Dusky Bay, on loan from Southland Museum & Art Gallery.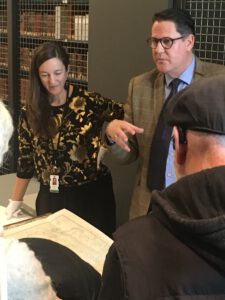 After Resolution's return to England in 1775, high quality engravings were made Hodges' sketches of New Zealand and the Pacific for publication as a book, along with an atlas of the voyages. The 2,000 copies produced sold out immediately. The excitement across Europe over the discovery of this exotic new world, meant pirated copies of the prints found an eager market. Look closely at the engravings on view.
Upstairs in the Reading Room, David showed us the magnificent large atlas that traced Cook's three voyages – circumnavigating the globe, criss-crossing the Pacific and sailing the furthest south anyone had ever done, almost to the Antarctic. Here the focus was on Cook's encounters with North Island Māori. We viewed a beautifully finished Rongowhakaata hoe, its kowhaiwhai painting still visible, and a taiaha from Palliser Bay, and examined a range of prints depicting the peoples and natural environment of the Pacific, many showing a romantic rather than real interpretation.
Thank you, Rebecca and David, and thank also to Te Papa staff; Librarian Martin Lewis and Kaitiaki Taonga Collection Managers Andrea Hearfield, Moana Parata and Grace Hutton who enabled our intimate viewing of such special taonga.
Elizabeth Kay, President, Friends of Te Papa