Posted on Wednesday November 27, 2013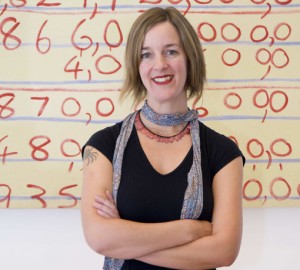 In upcoming issues of Open Eyes we will be profiling some of the talented people who work at Te Papa. We are beginning with the curatorial team and this month we introduce Rebecca Rice, Curator Historical New Zealand art.
Rebecca started at Te Papa in the role of Curator Historical New Zealand Art, in June this year. Prior to this she was lecturing in Art History at Victoria University of Wellington, where she also managed the Victoria University art collection. Dr Rebecca Rice was awarded her PhD in 2010, with her thesis being The state collections of colonial New Zealand art: intertwined histories of collecting and display. She talks to us about her new position.
What excites you about your position?
New Zealand is relatively young in terms of European culture, yet we have a remarkably rich artistic heritage. This is particularly evident than in the historical art collections of Te Papa, derived from the union of the National Museum and Art Gallery in the late twentieth century. As Curator Historical New Zealand Art, I am excited by the opportunity to deepen my research engagement with this collection, which has been the subject of my study for the last decade. I am also driven by the challenge of presenting this unique resource to peers and to the public, in ways that honour the scholarship of the past while highlighting its relevance to the present.
What is your special interest as a curator?
I have a special interest in nineteenth-century international exhibitions, ephemeral events that attempted to showcase the world. It was a phenomenon that swept the globe and in which New Zealand was active as both organisers and participants. I am particularly interested in the image of New Zealand that was presented at these ephemeral events through the display of fine art, photography and ethnographic artefacts, and how artists used these exhibitions to promote their own practice.
Another interest of mine is the aspects of our colonial art practice that haven't received much attention in our national art histories – the work for example, of female and amateur artists – that often reveals the complex nature of colonial society.
Did you start of wanting to work in museums/art galleries or did you arrive here by another path?
After a short career as a physiotherapist (!) I returned to university to study singing (!again), but also took an 'interest' paper in art history. In short, the passion of the lecturers and the subject enthralled me from the start. As I progressed through my undergraduate study, I realised that studying art history provided me with a means to better understand our New Zealand culture and its history. This continues to drive me in my work – whether teaching, curating, researching or writing I am committed to communicating my enthusiasm and passion for our culture to others. This is why I have chosen this path.
Have you always had an interest in museums/art?
I think it is perhaps apparent that I arrived here by a circuitous path, but on saying that, museums, art and galleries have always been in my blood. My childhood holidays were spent in part at the Otago Museum, seeing jars with whales' eyes, drawers of butterflies and taonga in back of house. I later worked there and ran different programmes for other children. In parallel with this my father was a constant sketcher; I sat alongside him and did my own from the age of four. He showed me how to look at Turner and to have faith in my own taste, selecting my own pictures for my room from an early age.
What is your next exhibition?
In the short term, I am working on a small exhibition for the Artist in Focus section of Ngā Toi that commemorates the Dutch New Zealand artist Petrus Van der Velden one hundred years after his death. We will also be holding a symposium on the 28 November this year to reflect upon his legacy.
Ironically, as we are short of curators at the moment, I am also working on a show being developed from the National Museum of China in Beijing showcasing the work of Shi Lu, also known as 'China's Van Gogh'. Shi Lu is one of the great Chinese artists of the twentieth century. His career was marked by persecution and mental illness, but he worked passionately to revive the art of traditional Chinese painting. He is little known outside of China, but the works are stunning and I believe they will be a pleasant surprise to all.
What do you hope to develop or achieve in your role?
I hope to continue developing our collections of historical New Zealand art so that they reflect the breadth and complexity of colonial culture and provide a resource for future generations to engage with and delight in.
Rebecca Rice writes on Framing the View, currently showing on Level 5.
In the next edition of Open Eyes we will introduce another member of the Te Papa curatorial team.
Feature image: Detail from: Messenger Sisters, Landscape with settlers, circa 1857, Te Papa.