Posted on Thursday September 12, 2013
Miss Universe 1983 has handed over her crown one final time – this time to Te Papa.
Lorraine Downes' glittery cobalt blue gown, Miss Universe crown, sash and trophy were officially welcomed to the museum a few weeks ago.
"I thought I'd lost it after several house moves," said Lorraine, "so was delighted when I discovered it had been kept safely locked up."
Her agent urged her to gift the costume, designed by TVNZ's Dawn McGowan,
in time for the 30th anniversary of Lorraine's Miss Universe win.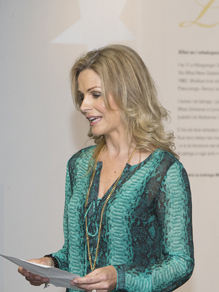 Lorraine said that whilst she felt very emotional about the exhibition, it wasn't the closing of a chapter for her. "It's always going to be part of my life, part of my history. You can't just go, that's it . . . I feel very, very proud of it being exhibited this way. It's much better to be at Te Papa, than in a box in the garage."
Lorraine said winning Miss Universe changed her life, and she hopes the display inspires other New Zealanders. "I hope it provides children with the courage to sign up for their dream and know that a Kiwi can win on the international stage."
To hear Lorraine Downes talk about her year as Miss Universe – and her life since then – join us for a glass of bubbly at 6-7.30pm on Tuesday, 24 September, click here for details.