Posted on Friday February 12, 2021
If you'd like tales giving history, detail and context together with a wander through Te Papa's Tory Street storerooms you would have loved our recent Back of House Tours with curator Katie Cooper and Kaitiaki, Collections Manager Carolyn McGill. These tours sell out really quickly and the one I attended with a small group of Members reiterated just why! I gained so much knowledge during our hour and more that I am adding links for you, and encourage you to explore further in Collections Online. As Katie said, this is a fabulous resource and they research and work to add information for all to share.
The storeroom that we visited is on level 2 of 4. It's a large, cool room with items stacked in crates and covered in plastic, with bolts, straps and bars for safety in event of an earthquake. As this building was built by Wellington City Council c1999 for their vehicles we shouldn't be surprised by its capaciousness or the forklift parked nearby which has been used to prepare for our visits. The items selected for our tour were varied. We began with the top half of a sideboard made by William White, carved with animal motifs suggesting the plentiful natural environment, owned by a family in a Waikato, but more typical in style of cabinets made in the USA then Europe.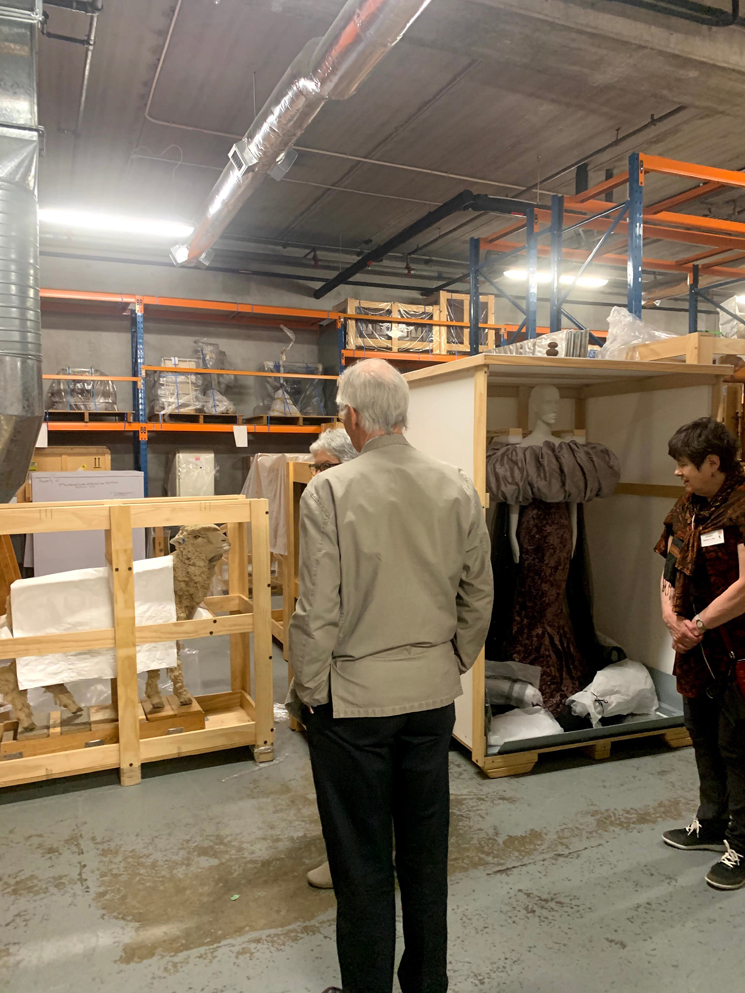 New Zealand's cabinetmakers were exporting in the mid to late 19th C. James Petherick Jnr's round table showcased marquetry from 15 different native timbers in 2600 individual pieces. It's 'very much a new Zealand piece', and its carved base and iconography including sailing ships and early commercial buildings and churches, were seen at the International Exhibitions in the 1880s of London and Melbourne.
Nearby, Shrek the sheep, previously from Bendigo Station near Tarras in Central Otago, who helped raise over $170,00 for Cure Kids, and brought international attention to our merino industry, stands stilled forever, taxidermied, in a crate. Beside him, a fabulous silk velvet gown from the Benson and Hedges Fashion Awards c1997, designed in protest post Rainbow Warrior bombing, displayed in a bespoke case on a mannequin.
Katie explained that all kinds of icons are represented in the Te Papa collections, and that they consider all proposed acquisitions in a number of ways including longevity, care needs and storage. But also in terms of how many ways they can 'do duty' – fashion, protest, capitalism, décor, for example – and in the stories which come with them, not all of which are happy.
Some of these stories are inspirational – Mark Inglis prosthetic cycling legs. Inglis became an amputee after being stranded for 13 days in a snow cave on Aoraki Mt Cook in 1982, went on to win Silver at the 2000 Summer Paralympics, and was the first double amputee to reach the summit of Mt Everest. Some many of us recalled – Lorraine Downes 1983 Miss Universe trophy. The chainsaw borrowed to cut down the tree on One Tree Hill as protest to Treaty Settlements c1985, found for sale on Trade Me. A space-age moulded white Pye television, made in Waihi in the 1970s drew laughs and a chopper bicycle with a tragic tale, a few damp eyes. All local stories and all fascinating.
Sharon Taylor-Offord
Committee
Images:  Friends members' back of house tours of Te Papa's Furniture and Technology Collection Store, led by Katie Cooper (Curator NZ Histories and Cultures) and Carolyn McGill (Kaitiaki Taonga Collection Manager Humanities), Te Papa Tory Street, 2021. Photos provided by and reproduced courtesy of S.Taylor-Offord and A. Kuiper. Friends of Te Papa.