Posted on Thursday June 10, 2021
Consider the printed word. Books, newspapers – we've all read them, looking at rows of letters creating words creating a story. How have these come about historically?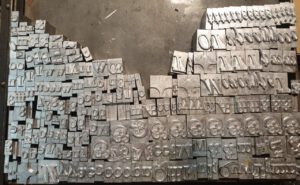 A group of Friends visited The Printing Museum where we were greeted by a dedicated group of volunteer professional printers and enthusiasts. It is evident that much time, energy, skill and passion has created this working museum. The disused defence buildings in rural Mangaroa contain the bulk of the collection – line-casters, large presses, guillotines, folders, cabinets of type, a typewriter collection and numerous other printing items.
Once destined for the landfill due to new digital processes superseding the analogue, printing machinery of global historical and industrial interest has been salvaged and refurbished. Printers and presses whirr and rattle creating a bit of magic which has been integral to much of our everyday reading experience.
The collection has expanded to an internationally significant size and is now one of the largest in the world. The type foundry is the only one operating in the Southern Hemisphere. Best of all, everything works!
It was a thrill to observe one machine creating Monotype (the casting of individual letters) from hot molten lead which was cast into a mould then cooled – one letter at a time, by hand. These lead letters were then set for newspapers and books. We were lucky enough to receive a keepsake lead symbol '&' – literally hot of the press.
Presses such as the Albion which had once printed the local Evening Post have been beautifully restored. This hand-operated press operated by three pressmen could print 200 copies an hour. Pages were set up using metal type in the case alongside the press. Each letter was individually selected by hand and put in place.  In the first four pages of the first Evening Post there were about 76,000 individual characters. Once the pages were printed the type was returned to the case.
Imagine the accuracy, skill and speed required simply to communicate the news to the masses. When we print something in this digital age, it simply requires the push of a button on a computer. Our modern day ultrafast digital communication makes it possible to read digital communications with hand held devices. What a contrast.
The intention of The Printing Museum is to establish a National Printing Museum. This long-term goal hinges on securing a larger and permanent central city space and receiving funding to realise this dream.
Next stop on our tour was Whirinaki Whare Taonga – formerly Expressions Whirinaki. Upper Hutt Mayor Wayne Guppy, Gallery Director Leanne Wickham and Curator Chriss Doherty-McGregor warmly welcomed us and were proud to showcase the recently-opened $9 million new heritage wing of the art gallery which opened on 15 May this year. Three galleries are dedicated to exhibitions of New Zealand and international art and local arts and craft and historical exhibitions.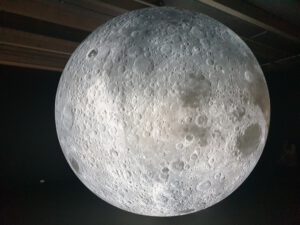 The Gillies Gallery's inaugural exhibition is Te Ara: The Stories of our Streets which runs until January 2022. It explores the significant stories behind the streets of Upper Hutt, its people and places, their meetings and memories from the stories of Maori and early settlers to the people of today. A beautifully crafted hīnaki (eel trap) from around 1900 is on loan from the collection of Te Papa.
At the recently refurbished gallery entrance we were entranced by The Moon, an installation of lunar imagery, moonlight and surround sound. The spherical sculpture is internally lit and captures detailed NASA imagery of the lunar surface. It is a wonder to stand in the darkened room close to the glowing moon.
Susanne Lang
Committee.