Posted on Wednesday May 28, 2014
The Friends are delighted to support Te Papa's publication of a significant new work by Kate Hunter and Kirstie Ross: Holding on to Home: New Zealand Stories and Objects of the First World War. The Friends' contribution is made possible by generous donations from members to our acquisition fund.
Holding on to Home investigates the importance of things in maintaining individual, family and local identities during a conflict that was global and globalising, as well as impersonal and industrial.  A well-thumbed knitting pattern, an engraved cigarette case and a tea caddy made from a spent shell case: these items contributed to the fabric of war 100 years ago and also bring this distant event back into our hands today.
Two authors, nine chapters, 28 collections and over 300 pages and images: these are the raw ingredients that have gone into Holding on to Home.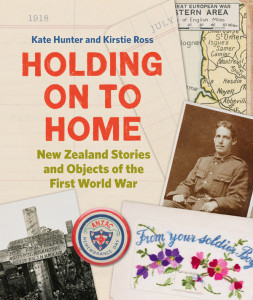 During the few short months between the book's departure as a digital file and its return as a three-dimensional object, we have a chance to share with you the principles underpinning Holding on to Home.  In writing this book, Kate and I have emphasised material culture in everyday life, in order to illuminate the period and to explore who New Zealanders at war were, as well as what they treasured and why.  The many stories and objects contained between its covers show how New Zealand society as a whole was enmeshed in the Great War.
Collections from museums, libraries and archives lie at the heart of what we believe is a new perspective on a very well-known event.  Showcasing those held at Te Papa was of course paramount. But as our work progressed, we realised that our history would be all the richer if we included objects from regional collections. Their inclusion increased research costs but, more importantly, allowed us to show how the conflict seeped and stormed into all corners of New Zealand.
We hope our approach makes New Zealand's collective experience of the Great War feel more intimate and human and brings it closer to home for modern readers.
Kirstie Ross
Curator Modern New Zealand
Feature image: Fundraising banner, New Zealand Red Cross, 1914-18. Auckland War Memorial Museum Tamaki Paenga Hira, T1398