Posted on Wednesday August 27, 2014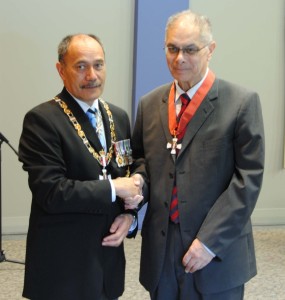 The Friends of Te Papa are delighted to congratulate Professor Jonathan Mane-Wheoki, Te Papa's Head of Arts and Visual Cultures, on his investiture as a Companion of the New Zealand Order of Merit (CNZM) at Government House, Auckland, on Wednesday 20 August 2014.
Jonathan's close relationship with the Friends began in 2004, when he was appointed Director of Art and Collection Services at Te Papa. That April an interview with Jonathan featured in Open Eyes, and since then he has contributed many articles on his work at Te Papa. A great supporter of the Friends, Jonathan has regularly given lectures and talks in our programme, always a highlight and hugely enjoyed.
Jonathan is very proud of his life membership to the Friends, received when he left Te Papa in 2009 to take up the role of Professor in Fine Arts at the University of Auckland.  The Friends were thrilled when Jonathan resumed his connection with Te Papa as Head of Arts and Visual Cultures in 2013.
The Youtube link with the video of Jonathan's investiture is now live:
https://www.youtube.com/watch?v=mt7esq232z4
From: Arapata Hakiwai
Kia ora koutou,
You may be aware that we were proud this week to congratulate Professor Jonathan Mane-Wheoki, our Head of Arts & Visual Cultures, on his investiture as a Companion of the New Zealand Order of Merit (CNZM).
This recognition is a mark of respect for someone who has done so much for art in New Zealand. As one of the country's leading scholars, researchers and practitioners of Māori art, Jonathan has had a significant impact on Te Papa. We are incredibly grateful for his breadth of experience, his mana and his willingness to share his knowledge and passion of both Māori and international art history with so many here at the museum.
Jonathan received the honour at an investiture ceremony at Government House in Auckland on Wednesday. I visited him at his home on Tuesday, and he was delighted to have close family and friends around him for this significant occasion. He was also pleased to be able to attend the ceremony in person; you may be aware that he has been unwell for some time and has been receiving hospice care.
Jonathan remains in good spirits, and although his energy levels are understandably low, he would welcome short emails, rather than calls, from friends and colleagues. (If you would like to send him a message,  contact the Friends' office for his email address.)
He and his family are grateful for all the good wishes you have already passed on following this week's ceremony.
Ngā mihi
Arapata Hakiwai
Acting Chief Executive and Kaihautū