Posted on Tuesday August 2, 2022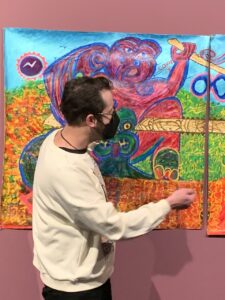 Graham Frost led us in a captivating one hour tour of  Matarau, curated by Shannon Te Ao.
We began with a close examination of the titular work in three panels by Emily Karaka. The word Matarau refers to a multi-pronged spear used for fishing and eeling; in this work we see a mother with spear in hand guiding her 3 tamariki. Graham explained that she is providing sustenance or them while also providing sustenance to us as viewers. He said that she exhibits multi layered and nuanced iconography in her response to the times we are in. The octopus has its 8 tentacles wrapped over a covid virus, which also has 8 protrusions. The top right hand side of the canvas triptych portrays the three white feathers associated with Te Whiti o Rongomai to remind us of to reflect upon how our shared society has experienced the pain of the past few years. You will also see 'fresh ideas in the fresh paint' – symbols of social media, indicative of how we share, especially when isolated.
On the facing wall are 3 canvases from Robyn Kahukiwa's Pepeha Series, made during 2021. Robyn has an international reputation and seldom exhibits new work locally. She was part of the activist movement of Aotearoa for treaty rights and Maori sovereignty in the 1980's, 'often led by powerful, motivated women with much mana', and these new paintings refer to the ongoing nature of this need.
On the final wall in this gallery hangs a carved piece by Hemi Macgregor. He has made 4 compass points, hung North, South, East and West to ground the exhibition, with each paying tribute to different aspects of the natural world. In the next room hangs his vast, dark, curved wall with flowers as stars of the Milky Way in 'the embrace of the night'. Graham told us that the Tuhoe tradition of the separation of day and night tells that Tane was given a basket of stars (whetu) which he knocked over in his excitement, and they went across the sky. These were cut on a lathe and the central piece was taped up then spray painted outdoors so that the paint could 'drift like pollen flowing' across its surface.
Lastly we looked at Ming Ranginui's 'car', Angel numbers on the dash, the interior of a red Daihatsu Sirion transformed to invoke serious issues in opulent satin smocking, often seen in funeral caskets. Is this car, which was her home and studio, now a hearse? Ming has a serious subtext to her sculpture – referencing homelessness, hope and aspiration of those like herself who are beginning their journeys as artists and young people while facing the precariousness of housing in the city. Many people are living in cars and garages.
The City Gallery says of this show that whakapapa, the environment, politics, and love are systems that are not linear, often connected while being inseparable from our daily experience. The works within Matarau traverse aspects of daily life while being connected to deep set ideas spurred on by artistic imagination.
'As a hunter or wayfinder must understand the shifting conditions around them to fulfil their purpose; the work of the artists in Matarau draws from a strong sense of who and where they are as a compass for their own practice.'