Posted on Wednesday November 27, 2013
In December 2012, Open Eyes, Issue 114, we reported on an amazing achievement for New Zealand and Te Papa – three exhibitions, developed from Te Papa collections, had just opened to international acclaim.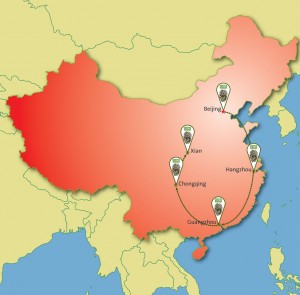 The prestigious National Museum of China in Beijing was the venue for two exhibitions, 毛利碧玉:新西兰的传世珍宝  Kura Pounamu: Treasured Stone of Aotearoa New Zealand and 布莱恩·布瑞克:镜头里的中国和新西兰  Brian Brake: Lens on China and New Zealand.
In Shanghai the China Art Museum was the venue for 子午线:来自新西兰国家博物馆的当代艺术  Meridian Lines: Contemporary Art from Museum of New Zealand Te Papa Tongarewa. 
2012 marked the 40th anniversary of diplomatic relations between the People's Republic of China and New Zealand, and to celebrate the cultural links between the two countries, Te Papa sent three exhibitions to China, and in 2014, China will reciprocate by sending two special exhibitions to Te Papa.
Meridian Lines completed its successful showing in December 2012 where it attracted half a million visitors and the Kura Pounamu and Brian Brake season at the National Museum of China finished in February this year. After its successful season at the National Museum of China, Kura Pounamu, an exhibition celebrating New Zealand jade, is currently touring China.
The second venue was the Liangzhu Museum in Hangzhou.  Hangzhou is a beautiful city with a population of six million and being close to Shanghai is a top tourist destination in China. The Liangzhu Museum is located in a huge archaeological site of the Liangzhu culture, which was centered on jade and dates back 7,000 years.
In July Kura Pounamu  opened at the third major Chinese museum to host the exhibition, Guangdong Museum in Guangzhou. Guangdong Province is the ancestral home of the oldest New Zealand Chinese families, and is currently a key destination for New Zealand exports to China.
Presided over by elders Shane Te Ruki and Teena Henderson, Kura Pounamu opened in its fourth touring venue, the China Three Gorges Museum in Chongqing on 8 November.  The largest municipality of China, Chongqing, has a diverse population of 32 million, and includes many of China's ethnic minorities.  The Three Gorges Museum is relatively new and its focus is the history and cultural heritage of the Yangtze River including the cultures of the ethnic minorities who have lived in that region for centuries.  It also features archaeological findings and jade objects dating back several millennia. The museum is showcasing Aotearoa's pounamu taonga alongside its permanent exhibitions of artefacts from the Yangtze River region.
The opening ceremony was attended by municipal officials, Kiwi expatriates, members of the consular corps, local print media and television, in addition to Director Cheng Wuyan and staff of the Three Gorges Museum.
Kura Pounamu will be on display until March 2014 when it will depart for the Shaanxi History Museum in Xian.  This is the final destination of this ground-breaking China tour of a New Zealand exhibition.
Exhibitions from China to Te Papa opening March 2014
The success of these exhibitions strengthens our cultural ties with China and we look forward to two exciting reciprocal exhibitions from the National Museum of China in 2014. The first celebrating thousands of years of Chinese civilisation 七位中国天子与其生活的时代 China: Throne of Emperors and 革命的艺术,艺术的革命——石鲁艺术展 China: Shi Lu – A Revolution in Paint. These exhibitions will run simultaneously at Te Papa opening Saturday 22 March 2014.
Feature image:  Children's waiata group from the Three Gorges Museum at the opening ceremony.  Photograph Wen Powles, Te Papa.