Posted on Friday June 4, 2021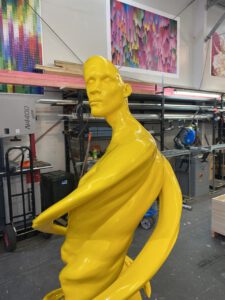 The first thing you notice on entering Max Patté's studio is the riot of colour. The second is the neatness and order that contains it. Large scale works of colour are ranged around the converted warehouse. Some are finished and packaged ready for transport to Max's upcoming exhibition in Sydney, the rest are curated in the space to show the progression of thought that has gone into their creation. There are life-size sculptures, bright and glossy and angular; sentinel when standing but lying corpse-like in crates, while others, just as bright, but organic in their swirling form, are upright, claiming the space around them.
Max explained that he is excited by emerging technologies that allow him to create in different ways. He says, "My latest sculptures are being 3D printed from titanium, just a few millimetres thick. These can be made within weeks, whereas the process to create a bronze sculpture may take up to a year after the initial modelling".
Virginia Woods-Jack is a photographic artist and Max's studio manager. They met by chance at an exhibition three years ago and have developed the symbiotic working relationship of opposites: ordered/random; expansive/intimate; scientific/organic. However, they are both interested in the natural world, our (human) place within it and effect on it. Virginia's mezzanine studio is just as light-filled as Max's double height warehouse, but here the colours are muted and gentle and there is a calmness in the room.
Virginia talked us through her creative journey and how she is constantly learning, re-evaluating and rolling forward with her work. She tends to use analogue rather than digital processes as she enjoys the physical, almost sculptural, way she is able to manipulate the image. Lately, she has been collecting seaweed from her walks at Island Bay and is always picking up the sea plastic she finds along the shore. Somehow, Virginia is able to portray this incongruous waste into beautiful, haunting images that belie the damage plastic wreaks on the environment.
Max and Virginia were excellent hosts – welcoming, informative and hugely talented. If you get the opportunity to visit, I'd recommend the experience; it's like going into a lolly shop, you'll want everything.
Helen Pinson
Committee