Posted on Monday April 6, 2020
We asked our curators to write a light-hearted blog about Te Papa's collections. Instead we got this rather dark blog from history curator Stephanie Gibson about objects that were made for events that never happened. She says 'the following selection is a sort of material commiseration for missed opportunities which many of us are feeling just now'.
1949: Royal Tour – Cancelled due to sickness
Royal visit badges, 1949. Maker unknown. Gift of Lynette Townsend, 2011. Te Papa (GH021569, 73,76)
These splendid badges were made for the expected royal tour of King George VI in March 1949 which had to be cancelled due to his ill health. There was great excitement about this tour because it was to be the first time a reigning monarch had set foot in New Zealand. Preparations were well underway with memorabilia like these badges already in production; and more expensive souvenirs like this commemorative goblet made in England and shipped to New Zealand.
Commemorative goblet, 1949. Made by James Powell and Whitefriars Glass, England. Purchased 2002. Te Papa (GH010358)
A shortened tour was planned for 1952, and when the king fell ill again, it was decided Princess Elizabeth would come instead. However, at the first stop of her tour in Africa, the young princess learned of her father's death and she returned home. Her eventual visit to New Zealand in 1953-54 was hugely popular.
1981: Hamilton Rugby Game – Cancelled because protesters invaded the field
Tickets, 1981. Produced by New Zealand Rugby. Gift of John Minto, 2009. Te Papa (GH012529-30)
In 1981 about 200 protesters purchased tickets for the Springboks versus Waikato rugby game at Rugby Park in Hamilton on 25 July as part of a plan code-named 'Operation Wooden Horse'. The plan was to stand on the embankment of the rugby field to help create a path through the crowd for a much larger group of protesters approaching by road.
This second group of protesters was code-named 'Operation Everest'. As the ticketholders took their places, the thousands of people in Operation Everest arrived and within moments had pulled down the perimeter fence and stormed through. About 350 anti-tour protesters successfully invaded the field, contributing to the game's abandonment. There were violent scenes as rugby supporters scuffled with protesters and pelted them with bottles.
1985: Proposed All Black Tour – Cancelled after a legal challenge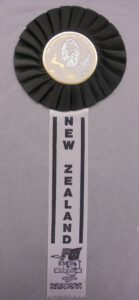 New Zealand Rugby Tour of South Africa rosette, 1985. Maker unknown. Gift of Suzy Andrews, 2016. Te Papa (GH024770)
This souvenir rosette was made for the New Zealand Rugby Union's proposed tour of South Africa in 1985, only four years after the bruising experience of the Springbok rugby tour to New Zealand in 1981. Renewed protest activity in 1985 demonstrated that the same issues remained. The proposed tour was cancelled after a successful legal challenge.
However, in 1986 an unofficial team of All Black players went to South Africa independently. They were called the 'Cavaliers' and included 28 All Blacks who were scheduled to tour South Africa in 1985 (only John Kirwin and David Kirk didn't go).
2011: Census – Cancelled because of the Christchurch earthquakes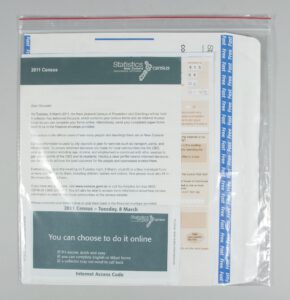 Census pack, early 2011. Produced by Statistics New Zealand Tatauranga Aotearoa. Acquired 2011. This image has CC BY-NC-ND 4.0. Census pack reproduced courtesy of Statistics New Zealand licensed under CC BY. Te Papa (GH021605)
This is an unused census pack because the census couldn't be held on 8 March 2011 as planned due to the devastating Christchurch earthquake on 22 February 2011. The earthquake caused severe damage and resulted in the loss of 185 lives.
The Government Statistician decided that a census could not be successfully completed given the national state of emergency and the probable impact on census results. There was also extensive damage to Statistics New Zealand buildings in Christchurch with significant impacts on census staff. The next census wasn't held until 5 March 2013.
Even though these objects were made for events that never happened, they represent significant cultural, social and political periods in our history. They were carefully saved by New Zealanders and given to Te Papa for posterity. We are very grateful!
Stephanie Gibson, History Curator, Te Papa