Posted on Tuesday July 21, 2020
Marilyn Garson began her talk to the Friends of Te Papa  with the question 'Why do I use a storytelling voice on a subject that is usually so angry?' Her answer  – that she is talking to us in the voices of people behind the blockade which confines ten times the population of Wellington into a narrow corridor, stretching from the museum we are in, as far as Paekakariki. Her book shares these stories and her experiences in more depth.
In 2011 she received an offer to work and live in the Gaza Strip as the Economic Director of Mercy Corps' Gaza programme, and then as a consultant to the office of UNRWA, in which capacity she joined the UN emergency team who remained in Gaza to shelter displaced people through the 2014 war.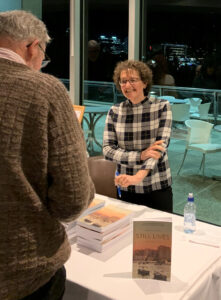 Our experiences of confinement allowed the audience to this first of such events post lockdown to imagine ourselves in the skin of those people, 'walled in together, who have endured lack of space and privacy for 70 years, with one gate through which everything that you need must be permitted to enter'.  We have felt the anxiety that comes from having to be hypervigilant, with no sense of safety. We have experienced the restlessness of humans not designed to endure that level of deprivation. But, for the people of Gaza, there is no end in sight. Marilyn described them as co-existing as a whole community, who adhere together like contact cement, who do not let go, saying 'it's as if they fortify themselves by caring for each other'.
As she says, human rights are everyone's rights, or they are nothing. The situation in Gaza illustrates unequal dangers for equal human beings. In conclusion Marilyn asked us to remember that they are just folks behind that wall, trying to cope. New Zealand votes for the UN resolution, affirming that Gazan's will be protected, but we need to be hear the actual proportions of harm. She asks that we be discerning and balanced as the biggest threat is our disengagement. In this age of 'bubbles' we can use the skills which have kept us connected in isolation to meet Gazan people digitally.
Sharon Taylor-Offord
Friends of Te Papa committee member
Some suggestions from Marilyn at the end of the talk on how you can help:
Contact MPs' offices to urge recognition of Palestine, since that would make clear that the land at risk of annexation is part of the State of Palestine, as recognized by 138 nation states.  New Zealand is in the minority when it fails to recognize Palestine, and recognition would help to level the field in future discussions.
Search, sign, join initiatives that relate to the three immediate issues:  recognition of Palestine, the right of Gazans to quality healthcare and facilities to respond to Covid-19, and opposition to the proposed, illegal annexation of Palestinian land.  Add your name to the list of names and the weight of numbers.
Reach into Gaza, make contact with groups and individuals there.  Your contact might not end the blockade, but it would help to combat the isolation of the real people behind that wall.
Support Palestinian goods. Trade Aid has a good selection of food goods!