Posted on Monday July 22, 2013
A staff swipe card unlocked a plain grey door somewhere in the depths of the museum. A dozen of us were ushered by Grace Hutton, Collection Manager Humanities, into a vast pale and quiet space.  Coming from the brightness and buzz of Te Papa's public displays, this couldn't be more different. At first there seemed to be little to look at, just a few shelves of books and a row of carved ceremonial staffs from the Marquesas Islands, firmly secured to the wall. But we soon learned that in this space there are more than 14,000 objects all of which originated in the islands of the Pacific. Each one is carefully stored so that most can't be seen until their protective cloth covers are lifted by white-gloved staff members, or the wide shallow drawers are slid open.  Then the richness of the collection is revealed.
In one set of drawers are mats from Samoa woven from pandanus leaves, the cloth so fine that some mats would take years to weave.  These are not mats to put on the floor, but to be carefully stored and presented as gifts over many years.  Sean Mallon, Senior Curator Pacific Cultures, explained that the story of every mat accumulates as it passes through each set of hands. The value of the mat lies in its history.  Holes don't matter, the story does.  Around the corner are strong racks holding more than 300 larger mats, each one rolled and wrapped in protective Tyvek cloth with a photograph and notes attached to the end of the roll.  Everything in this collection is not only carefully stored, but also meticulously catalogued.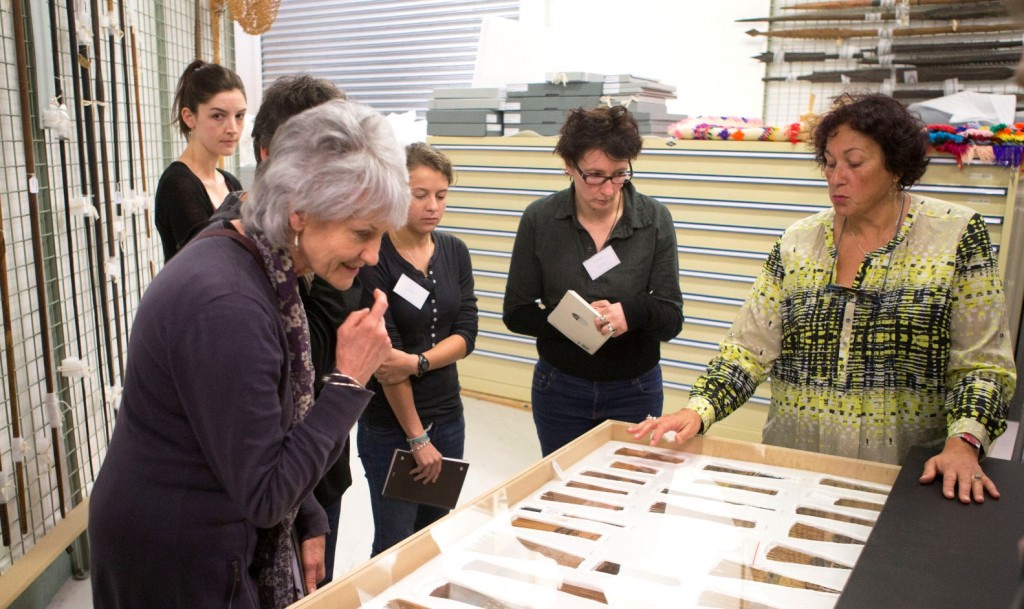 As drawer after drawer is opened we see exquisitely stitched, appliquéd and embroidered quilts,  feather cloaks, magnificent carved hair combs,  fish hooks, a few made from the bodies of stick insects, and necklaces made from teeth, whale or human, shells, pig tusks, seeds and tiny pearls.  Rows of sturdy shelves are stacked with drums and other musical instruments, model canoes among many other artefacts from the regions of the Pacific lying between Hawai'i and Rapanui in the east, Papua New Guinea in the west and New Zealand in the south.
Grace and Sean point out that the arrival of Europeans in the Pacific is reflected in many of the objects. Christian missionaries showed women the sewing techniques used in making the quilts and there is a woven mu'umu'u and a military-style jacket from Tuvalu. Missionaries and other Europeans who lived in the Pacific often came home with carved clubs and other weapons, sometimes cut down to a manageable size for transport. Some items such as Fijian throwing clubs were particularly popular with tourists and were made for the trade. Even though most of these precious objects are rarely seen on public display, we can be sure that they are not neglected. They are all carefully stored, described and studied by experts. Little by little their stories will be told.
Lois Daish
Friends Committee
Check out upcoming  back-office tours
Feature Image: Detail from Kapa (tapa cloth), 2009, Hawaii. Andrade, Maile. Purchased 2009. Te Papa