Posted on Wednesday February 17, 2021
"Some things you just walk past….you miss things" commented a Friends member on one of our exclusive Art Narrative Tours. She didn't only mean the little details. The tour had made us focus on works, really look at what was in front of us but also understand the back stories and learn how to 'read' the art more fully.
Our guide was Sharon Painter-Arps and we appreciated her solid art knowledge and her down-to-earth and personal approach. She's a Visitor Services Manager at Te Papa and a practising stone carver. To her, art is part of the narrative of who we are. She invited us to consider how different cultures and influences interacting have created and are still creating a new and unique culture and art in New Zealand.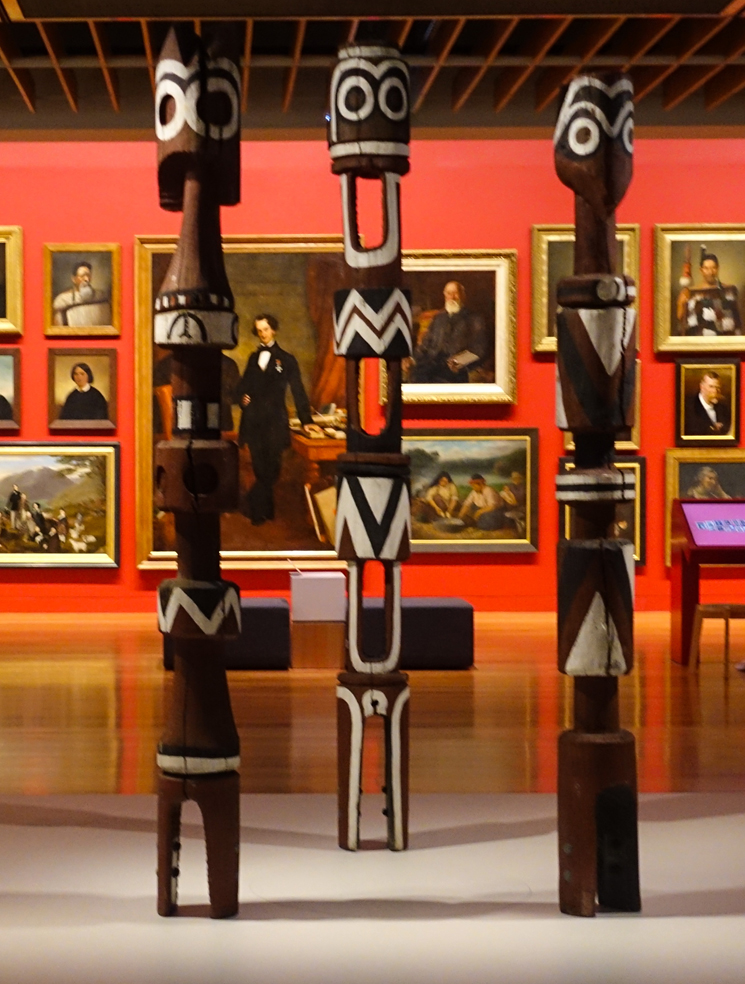 First off, Sharon led us to the pou, the totem pole-like structures standing in the entrance to Level 5.  Artist Arnold Manaaki Wilson was the first Maori to graduate in New Zealand with a fine arts degree. He created this 1980 work 'Haumia, Rangitiina, Tiinia' with a chain saw. I had walked past the pou and admired the striking forms and bold colours but I hadn't really thought about where the artist was coming from and whether he might have gathered ideas and techniques from the art and wider world and combined them with concepts from his Maori heritage.
We went on to the red portrait wall, the slice of New Zealand history. Sharon chose examples of works by John Webber, the painter on Cook's ship, by John Copley from Boston, and by Charles Goldie, the artist famous for his Maori portraits. She pointed to clues to how the artist wanted to show the subject. She talked about the back stories, what is not shown, and why the portraits were painted.
We then looked at more contemporary works by a more diverse group of artists. All – from Len Lye, Theo Schoon and Ralph Hotere, to younger artists – were experimenting and using ideas and traditions in innovative ways.
Reuben Paterson's 'Te Pūtahitanga ō Rehua' uses Pop art multi-channel animation with glitter and diamond dust. I had watched the pulsating, glittering display before but I hadn't focussed on the title so I hadn't realised how appropriate the animation is to talk about the rising of a star.
Ralph Hotere was well known for his 'black' paintings and for collaborations with others. Te Papa has examples of his collaborations with poet Bill Manhire and with sculptor Bill Culbert. I didn't know that for Maori black might mean infinite deep space. I need to think about how that might play out in Ralph Hotere's works.
Discussion of Dutchman Theo Schoon's works using Maori imagery covered the wide variety of arts he was involved in and the issue of cultural appropriation.
We explored works using materials in experimental ways, such as Helen Calder's line up of acrylic paint drips 'Everything in its Right Place'.
In a part of Level 5 emphasizing social commentary, Robyn Kahukiwa's 1973 work 'The Migration' was the last stop on our art tour. This is a direct and poignant portrayal of a young family facing an uncertain and maybe difficult future.
Be sure to keep the Art Narrative Tours in your plans when visiting Te Papa, tours are running at 1pm between Wednesday and Sunday. As a Friend of Te Papa you'll receive 25% discount when booking – enter your promotion code FriendsArt25
Hilary Troup
Member