Posted on Wednesday March 13, 2019
Friends enjoyed a private visit to the A.E Kitchen Building, a baroque heritage building, very much a feature of Whanganui's main street, Victoria Avenue. Recently restored under the direction of heritage architect, Bruce Dickson, it received the silver award in the Heritage and Restoration category in the 2018 NZ Commercial Project Awards.
As Bruce earlier explained, Wanganui has successfully repurposed a number of heritage buildings so that they continue to provide character and vibrancy within the townscape. Whanganui is proof that repurposing existing buildings can provide more value back to the community than the practice of replacing them with soulless glass-facaded commercial mega-stores.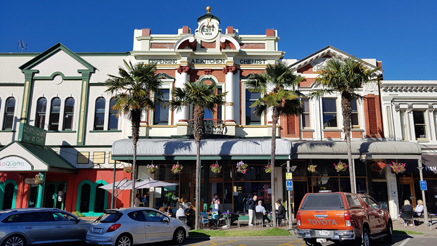 AE Kitchen arrived in Wanganui and in 1858 constructed premises for his dispensing chemist business. He and his family lived in the elegant upstairs apartment over the shop. The building's imposing baroque frontage and two side walls are brickwork while all the interior and rear of the building are timber construction. The upstairs apartment is reached by an imposing grand stairway complete with a magnificent sweeping balustrade. The front rooms have ornate pressed tin ceilings, flush wall linings with ornate skirtings and trim around the doors and windows. The other spaces are lined with vertical match lining contrasted with dark-stained dados. There is a small Juliet balcony overlooking the street and a larger balcony at the rear of the building.
When owner Kerry Girdwood came across the most notable building fronting Victoria Avenue building, hardly altered from when it was first built, she was immediately enthusiastic about its preservation. She could see a wonderful in-town home for herself above two street fronting boutique shops. But first the brick walls and the glorious pediment required substantial seismic strengthening. Removing one wall in the apartment to make a large living/dining area and installing modern services including a lift resulted in a spacious and stylish apartment.
Kerry spoke to the Friends about the enjoyment of working with the consultants and builders as a team to achieve the restoration. She is delighted at how comfortable, convenient and accommodating her new-old building has turned out to be.
Crispin Kay
Member, Friends of Te Papa
Feature image: A E Kitchen Building. Images by Crispin Kay