Posted on Monday August 4, 2014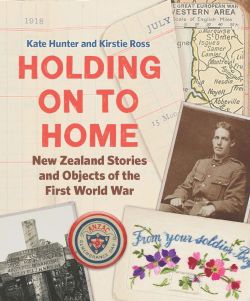 The Great War seeped and stormed into every aspect of New Zealanders' lives, from the front line to the family home. The things that survived – a crumpled theatre ticket, an engraved cigarette case, a knitting pattern, a crucifix made from rifle cartridges – are emotional touchstones that bring this distant event back into our hands.
Historians Kate Hunter and Kirstie Ross have scoured museums and archives across the country to uncover these personal possessions and the stories they tell.
The Friends are pleased to support Te Papa's publication of their significant new work – Holding on to Home: New Zealand Stories and Objects from the First World War, as part of our ongoing programme of fundraising and gifting for the museum. As a thank you for your support, Te Papa Press is offering you a very special pre-publication price of $30.00 (RRP $49.99) for books ordered before Thursday 21 August 2014.
To take advantage of this offer, order your copy or copies through the Friends of Te Papa office.  You can either pick up a copy at the authors' talk to the Friends on Friday 8 August or, send your details to us at friends@tepapa.govt.nz or phone the office on (04) 381 7051.  There is a charge of $7.50 for postage and packing.
Feature image: Detail from: Members of the Main Body loading kitbags onto the Athenic, 1914. Canterbury Museum, Christchurch