Posted on Monday February 4, 2019
While they once reigned at the forefront of the avant-garde in Britain, watercolours are now generally considered outdated, irrelevant and boring; a seemingly endless series of the same faded and browned landscape over and over. And despite a recent international revival of interest in the medium – which aims to tell a new history of watercolour by focusing on previously neglected subject matters or artists – they are rarely exhibited or explored by scholars in New Zealand. On the contrary, their very relevance to local collections is sometimes being questioned. Yet, during the late 1950's, the National Art Gallery eagerly accepted a generous gift of 336 works from Archdeacon F. H. D. Smythe (1873-1966), a British private collector who had made previous gifts to the Dunedin Public Art Gallery after forming a friendship with curator Annette Pearse (Dunedin received a total of 1,179 artworks from Smythe).
What makes this gift even more astonishing is the fact that Smythe himself had never been to New Zealand. Even though he made other donations to institutions in England, nothing comes close in scale to his gifts to New Zealand. What he probably did not anticipate, however, was that he donated these works at a time when New Zealanders were beginning to redefine their entire national character, and as a result British watercolours were commonly viewed as unwanted reminders of British imperial control. This eventually led to the collection's neglect, and indeed Te Papa's holdings have never been analysed in great depth before.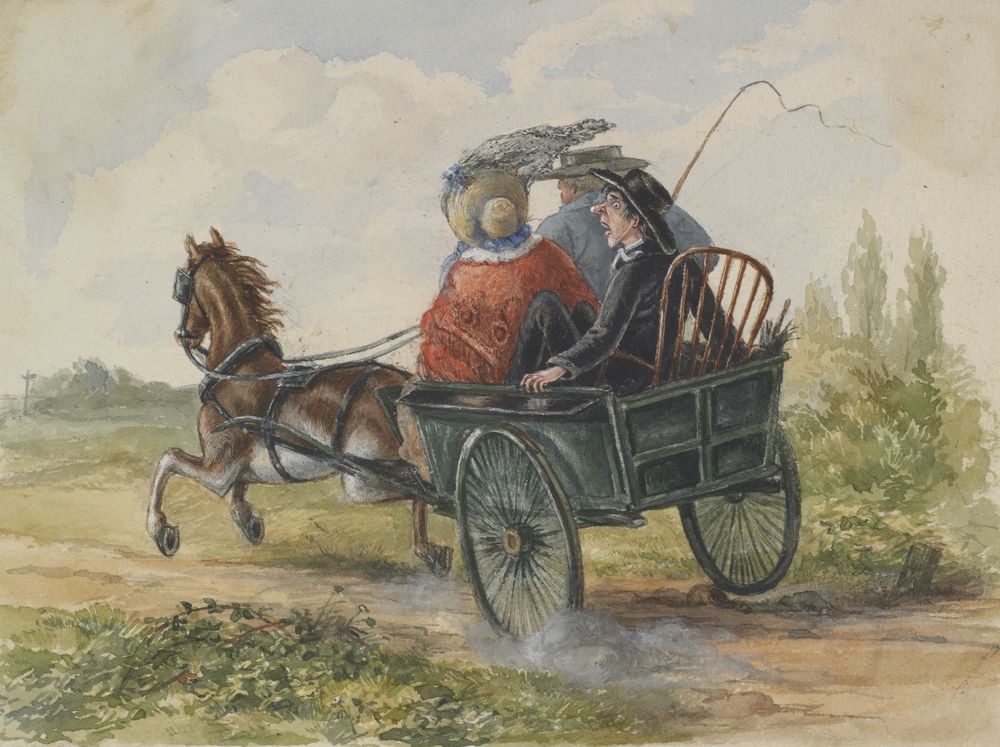 In my research, I am interested in Smythe's motivations behind the gift, how the watercolours were received and treated in New Zealand since their arrival, as well as the contents of the collection itself. Looking at the time when a collection was formed, and how artworks ended up here, can reveal different cultural trends and shifting tastes of New Zealand art institutions, which makes even artworks such as these relevant again.
But I also want to engage Te Papa's collection directly in the international debate about how to talk about watercolours today. Yes, we have dramatic landscapes like Turner's, a stormy marine by Copley Fielding, or an architectural street scene by Prout; but their stories have already been told. Instead, why not mention the nurturing lioness by Hatton, the impressionistic landscapes by Fisher, or the amusing illustrations such as this one attributed to Eliza Sharpe. The colours remain bright and lush, and the artist demonstrates great skill in handling the watercolour medium, using translucent washes for the landscape and sky to create atmosphere, while adding gouache (or bodycolour) in some areas, such as the dust cloud on the ground to emphasise the speed of the wagon, which appears to be almost tipping over as a result. This would explain the amusing facial expression of Rev. Stiggins, the figure sitting in the back of the wagon, apparently clutching on for dear life. Stiggins, easily identifiable by his large, red nose (sign of his love for alcohol), skinny stature, the broad brimmed hat, faded green umbrella and the chair, is a character from Pickwick Papers, a novel by Charles Dickens, issued monthly from April 1836–November 1837.
Watercolours like these exemplify the humorous way artists interacted with the literature of the day, and yet they are rarely included in watercolour studies. Personally, I believe this is one of the most charming works from the collection, which boasts many more hidden treasures waiting to be shown.
Annika Sippel
Annika is a visitor services host conducting PhD research into Te Papa's watercolour collection
Image: Eliza Sharpe (attributed), Illustration for Pickwick Papers, watercolour, Te Papa Tongarewa, 1957-0009-229, Gift of Archdeacon F.H.D. Smythe, 1957