Posted on Tuesday April 14, 2020
Approximately 80 People have contacted Te Papa and asked about more information and how they can help with the Hudson Research project over the years. Of those people 20 have contributed enormously to the crowd sourcing project. Some have deciphered one of Hudson's note and transferred this information into an excel spread sheet, which is great because every entry counts. One page means approx. between 50 and 75 collection events with one or more specimens of an insect species respectively. Many transcribers have done multiple pages with hero Mark, who has done more than 1500 transcriptions!!!
Once the citizen scientists and busy transcribers have sent in their spreadsheets, Te Papa's entomologists need to edit the lists in order to standardise e.g. locations and date formats. But also the species names need checking as many of the names Hudson has used are not valid anymore and sometimes time-consuming research is needed to find the current scientific name for a certain insect. Only after this has been done the transcriptions can be transferred into Te Papa's database and occur at collections online.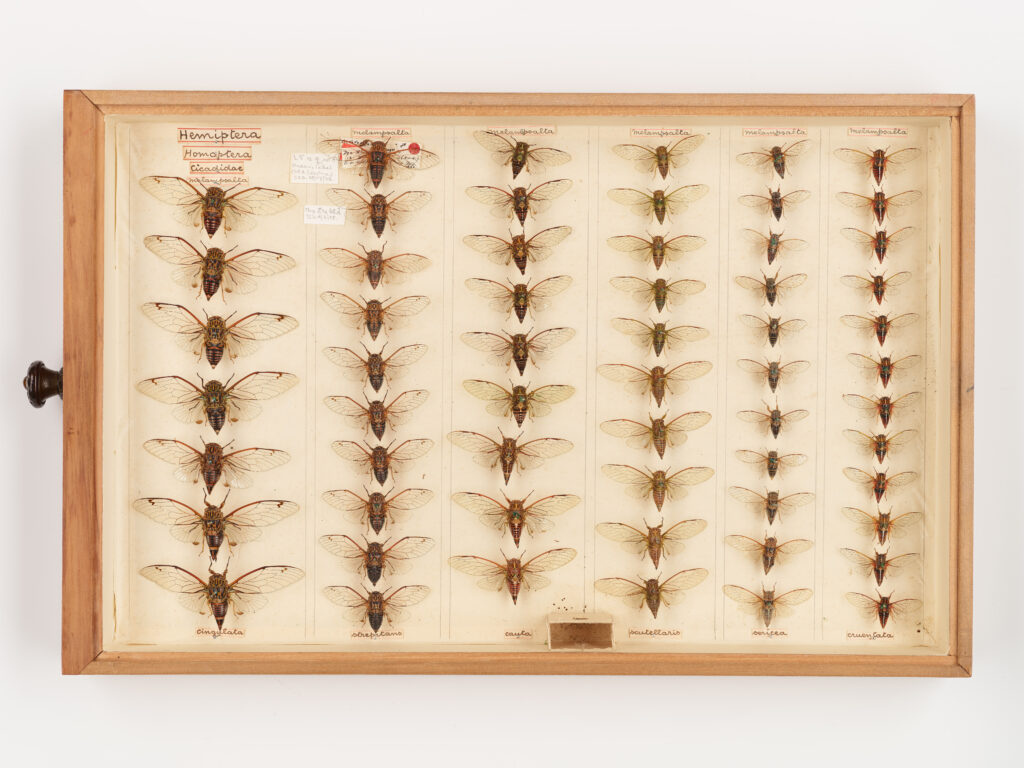 The lockdown is a perfect opportunity for more transcriptions and editing. Currently volume 2 with all the beetles are under review and will be hopefully soon available for everyone via the Te Papa website. So there is not much left of the beetles but volume 3 is divided as follows:
Of 70 pages with Diptera, 50 have been transcribed (of which most are already online) leaves 20 to go.
Of 10 pages Orthoptera with wetas and grasshoppers only 2 have been transcribed so far.
There are still 14 pages left of the Hemiptera (e.g. cicadas) of the 20 pages in total
And only a third of the 30 pages filled with Hymenoptera (mainly wasps) have been done so far.
8 out of 30 pages with aquatics are transcribed and 22 two are still available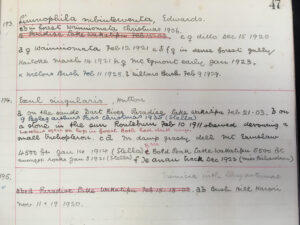 Hudson was a moth specialist, which makes volume 1 with mainly Lepidoptera his most valuable register of his amazing moth collection. But this is also the most challenging register to transcribe. It is full with tiny little notes and remarks, the space never enough for all his collections, so he wrote in between lines and even glued pieces of paper into the book to add more information.
This volume has barely been touched and still waits for keen transcribers. This is especially important as there is a research project called "100 years moths" that aims to contribute data in order to get a better understanding of the global insect decline. Every month keen kiwis are monitoring moths at Zealandia at night with bright light traps. The recent data need to be compared with previous studies from the same area with Hudson's Karori samples the oldest and most comprehensive we have. Without digitising his handwritten notes, we won't be able to analyse his findings and compare it with the more recent results.
Written by Julia Kasper, Curator Invertebrates, Te Papa
If you would like to assist with the Hudson research project please contact Julia Kasper on Julia.Kasper@tepapa.govt.nz