Posted on Monday August 16, 2021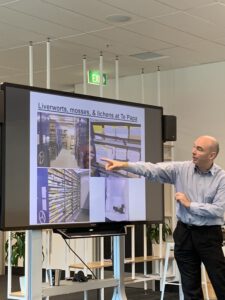 The subject for Leon Perrie's (Curator Botany) recent talks covered liverworts, mosses and lichens. As Leon said, 'New Zealand is the seabird capital of the world, the whale capital of the world, and also the liverwort capital of the world', adding that they are 'little plants that are everywhere, and often overlooked'.  We left with a greater appreciation of how they differ from each other and other plants. We'll now be able to spot them, and we are hoping that he will take us out for fieldwork in the forest.
Leon has been at Te Papa since 2002. He explained how the museum's collections have been formed, and how they grow. Te Papa has collections of collectors such as that of George Sainsbury. Last year Leon went to Fiordland with the ornithologists, and spent time on small islands searching for specimens after being dropped off by the bird researchers. He discovered huge diversity in these compact areas.
He kindly supplied us with printed documentation in support of his talk so that we could follow along, and remind ourselves of all the details afterwards. The two pages for the lifecycles of Liverworts and Mosses which he explained to us took him two years at University to learn about comprehensively but Leon said that if we just left thinking how plants are interestingly weird, he'd done his job!
For example, liverworts and mosses need damp places because, like ferns, they have swimming sperm.  Also like ferns, they are more readily dispersed by wind, and spores have been known to cross the Tasman Sea. Since 2012 he has been adding piecemeal to the electronic Flora of New Zealand in support of Patrick Brownsey, which has a technical digital record of ferns and lycophytes.
Lichens love rocks, and will quickly colonise areas left open from human intervention such as earthworks to create roads. They are fungi behaving as plants. There was an amusing cartoon from the New Scientist, Moss v Lichen in which insults were traded between specimens over 100 years. The most useful tools when lichen hunting is a geological hammer as they are 'in' the rock, so unable to be peeled off the surface.
There was a lot of audience participation and enthusiasm for the topic as Leon shared his knowledge. We finished by using magnifying glasses and microscopes to take a close look at a selection of samples. Next time we are out we can look for identifying features – leaves with a single vein; a spore capsule on a wiry stalk; or on a translucent fleshy stalk, which then splits into four valves. These were beautiful when magnified. Leon is a fan of citizen science, so encouraged us to add the iNaturalist app to our phones and to use it. We can then learn more about these' aliens on our world'.
Sharon Taylor-Offord