Posted on Wednesday June 1, 2022
Many of us grew up with modernist design in furniture, ceramics, textiles, architecture and even ordinary household objects. Now enough time has passed since the peak of 'modernism' to allow its ideas and their expression to be clearly analysed.  Justine Olsen, Te Papa's Curator of Decorative Art & Design, gave an enthusiastic Friends' audience a fascinating look at how she has used Te Papa collections to research and develop four exhibitions.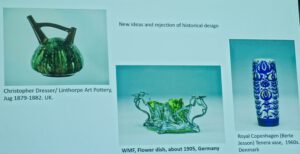 Justine defined 'modernist design' as a movement that emerged in Europe after World War II. Its leaders wanted to find more democratic ways of living. Household items should be affordable, available, with an honest sense of function and without fancy added decoration.
The first exhibition was 'Walter Cook: A Collector's Quest'. Walter Cook built up a collection tracing modernism and its antecedents. Very importantly, he developed a catalogue listing what he bought, the price paid and where he bought the object (mostly in Wellington).  His collection ranged from Danish domestic ware such as the striking but simple 1953 Krenit bowls* to Liberty pewter to Swedish glass.
The exhibition 'The Gallery of Helen Hitchings' was based on Helen's collection of artworks, textiles and photographs. The photos showed the informal living room look Ernst Plischke designed for the Wellington gallery. It only operated from 1949 to 1951 but Helen was influential in stimulating interest in modern art and design.
Next 'Peter Stichbury: A Potter's World' looked at modernism through the studio pottery movement. The potters valued simple functional forms and materials.
'Modern Living: Design in 1950s New Zealand' was the most recent exhibition. A rich resource for this was the Art and Design exhibition in Auckland in 1952 which showed how international ideas were being used in New Zealand. The affordable, practical products emphasised by the design movement included examples made by disabled ex-servicemen – a child's bent pine rocking chair with fabric webbing (1948) and a sturdy hand woven wickerwork laundry basket (1959).
I recognise that laundry basket from my childhood. And I was not the only one. In thanking Justine Olsen, Ann Walker said "my head is full of wonderful images and ideas". Justine showed how these ideas and images can be shaped into a coherent view of our society in a certain era.
*To explore images from this talk, go to Collections Online on the Te Papa website. For example the Krenit bowls can be found at https://collections.tepapa.govt.nz/search/Krenit/results.
The laundry basket can be found at https://collections.tepapa.govt.nz/search/Laundry%20basket/results
Hilary Troup,
Member
Images: H Troup.