Posted on Monday May 27, 2019
It's a revelation climbing the stairs to the mezzanine Reading Room above the Treaty of Waitangi exhibition at Te Papa. Past caged rare and fragile books, the room suddenly opens out to a fabulous view over the lights of Mt Victoria and Oriental Bay.
An inquisitive group of Friends was there recently to find out about the research sources that sit behind the new Te Taiao | Nature exhibition. Called, Honouring the Past to Enrich the Future, the evening was a great blend of the very old and the very new.
Research librarian Martin Lewis, who spoke alongside digital asset system manager Nicola Caldwell, said developing an exhibition at Te Papa was like raising a child – it took a village.
Donning gloves he introduced us to some of the fragile, antique books that contributed to the exhibition. The first, from 1739, was an early taxonomic text by the scientist Georg Rumphius, which became the basis of taxonomy and museums. Taxonomy is important, Martin said. Being able to go back to the first scientific descriptions, pictures and names of species forms the basis of biodiversity.
Beautiful engravings by William Hodges, created on one of Captain James Cook's expeditions, also fed into the exhibition as did images of molluscs drawn by missionary and naturalist Reverend Richard Taylor in 1855, and the wonderfully vibrant paintings from the first edition of Walter Bullers' A History of the Birds of New Zealand.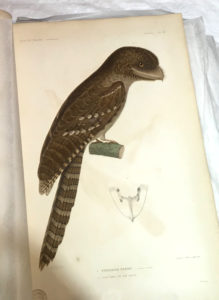 The great thing about the Te Papa rare book collection is it is actively used to support Te Papa research rather than being left to gather dust.
Bringing us into the 21st century, Nicola brought up on screen the media library that brings together all Te Papa's digital assets. This 3.5 terabytes (and counting) of 'rich media' includes photos, audio recordings, videos and 3D visualisations. Like the antique books, the media library is a research and collaboration tool and plays a central role in developing exhibitions like Te Taiao | Nature.
Not only does it contain all the images licensed to be used in the exhibition. It also includes photos taken while Te Taiao Nature was being developed, including one of everyone who worked on it signing their names on the floor for posterity.
Each asset includes a range of information about it, and the library enables Te Papa to manage the copyright whenever it is reused. One of my favourites was a photo of Wellington perfumer Francesco van Eerd creating the indigenous bird smells.
Friends will have another chance to hear Martin talk about Te Papa's rare books at the Friends Takeover on 27 June.
Anna Smith
Member, Friends of Te Papa