Posted on Tuesday January 25, 2022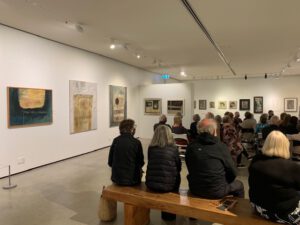 Melvin Day: A Modernist Perspective, is a survey show of the artist who lived in Seatoun for many years, and whose Wellington landscapes are familiar to many. The exhibition is drawn largely from his bequest of 60 paintings to Waikato Museum Te Whare Taonga o Waikato, in the city of his birth. In 2015 Day, then aged 92, had decided upon this legacy but it did not come to be realised until after his death in 2016.
The artworks, which cover seven decades of practice, begin with his teenage years in Auckland during the 1930s, and conclude with the landscape from his 2009 trip to Fiordland in company of fellow artists Nigel Brown, Geerda Leonards and John Walsh. You may have seen the documentary of this trip – The Waterfall. The accompanying wall text is excellent, and you can easily self guide through the show. We were fortunate to be guided by Contemporary Art Curator Mark Hutchins-Pond who is a font of knowledge and anecdote on this subject, having had a personal association with both Pat, as he was known to friends, and wife Oroya Day. Mark was curator of the 2019 Waikato Museum exhibition of the same name.
Day began his formal art training at the age of 11, studying part time at the Elam School of Fine Art in Auckland. The works begin with gentle watercolours and sketches in which the influence of the Director Archibald Fisher and his influence from Leonardo da Vinci can be seen, to move through stages of experimentation. For example, works from the 1940s exhibit cubist forms, some abstraction reminiscent of stained glass windows, and architectural, flat graphics typical of this period, with no spatial depth. Mark told us that in 1949 in London Day saw a survey of the work of Paul Cezanne which was a revelation of how colour and tone could be used to model landscape in three dimensions, using very little line. This led to a dramatic change in his work upon his return to Aotearoa.
By the late 1950s/ early 1960s Day had moved away from the flat colours of Cubism into abstract expressionism, where the work became looser, more textural,  'as if the composition has exploded'. Day studied art history at the prestigious Courtauld Institute in 1963, and Mark described two canvases from that time as recalling the vivid colours of the Pacific.
Day's interest in the texture of ancient frescoes in Italian churches and how text was used by the British Museum to have an almost abstract quality saw him experimenting with texture, and rough application of paint which doesn't entirely cover the canvas, as if leaching out. He liked the idea of crusty fresco in which thin layers of colour are disintegrating, combining this with text from Shakespeare which speaks of the human condition.
Day was appointed Director of the National Art Gallery in Wellington in 1968. The next year paintings from his Uccello series were shown, abstractions based on his interest in Renaissance painting. Wall text quotes a Dominion Post article of 2005 wherein Mark Amery described the work as being 'out of time….they appear dated.. because they are meant to. These are surfaces patinaed by time….like weathered walls of history…' and this is a good description of them in my opinion.
They are really worth spending time with; the colours and shapes of works such as Makara (1972) arrest the eye upon first glance, but there is so much more depth to them. The maker's intellect is embedded in their surfaces.
Sharon Taylor-Offord.