Posted on Friday March 11, 2022
Travelling overseas and meeting the local artists is a crucial part of Shani Pillai and Joji Jacob's working lives.  Covid-19 put a sharp halt to that but enabled this energetic and enterprising couple to undertake 'spurts of travel', to parts of NZ they had never visited.  They also took the opportunity to meet artists, particularly the ones who have arrived from other countries to settle and work in NZ.  Meeting the artists and understanding their creative process is when the art is given 'a soul' and 'all works of art have a slice of the artist's life within them.'
This event focused on three of the artists they interviewed who are all based in Christchurch and its surrounds.  The multi-media presentation took us on a brief visual trip to each artist's country of origin, followed by a filmed conversation with the artist to learn about ancestry and heritage that finds expression in the finished art.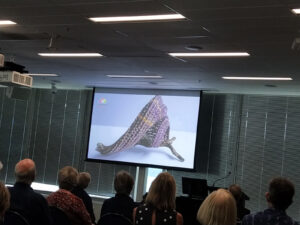 Koji Miyazaki is a jeweller, originally from Kyushu Island, South-west Japan.  He studied jewellery design in Tokyo.  Arriving in NZ with a scholarship to study English, he now works from his gallery in Christchurch.  The beauty of nature, cherry blossom and ginkgo influence his work.  He is constantly experimenting and exhibitions 'push me to create'.  Bamboo, fibre from Japan and pieces of chopstick find a place in his creations.
Sudi Dargipour is Iranian – from Isfahan, where she studied textile design. She is currently employed by Dilana Rugs Ltd.  As a designer, she sees herself as the bridge between the idea and its execution.  This is 'definitely art', she insists.  She has collaborated with other artists such as Darren George and Reuben Paterson.  She embraces culture and understands the psychology of colour.  Maori culture fascinates her – 'the geometric patterns, (like tukutuku), are similar to Persian ones'.
Tamar Guse has Israeli and German heritage.  She spent her childhood and teenage years in NZ.  She returned to Israel for some time but has now resettled in NZ.  Basket weaving helped her regain her sense of identity when becoming a new mother.  Her weaving has moved to the sculptural –amazing shapes using driftwood and pinecones.  Tamar also teaches basket weaving and has planted a willow grove in her garden.
Shani and Joji delivered another enjoyable and well-prepared talk. The display of traditional artefacts (loaned by embassies, Anna Williams and Ann Hodson) was an additional attraction.
Dorothy Corry
Member