Posted on Wednesday August 18, 2021
The fascinating human story behind the creation of Britain's decimal currency, and the role Prince Philip played in it, was shared with a group of Friends of Te Papa recently. Dr Mark Stocker said that while researching his upcoming book on the introduction of Britain's decimal currency he had gained immense respect and affection for Prince Philip. As a long serving member of the Royal Mint Advisory Committee the prince had played an active and crucial role in the introduction, design and resulting praise the coins publicly received.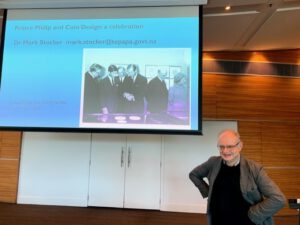 In the middle of last century decimalisation was also being introduced in other Commonwealth countries such as New Zealand. Dr Stocker said he regarded Prince Philip as perhaps the most intriguing member of the royal family. While he had a bizarre and somewhat dysfunctional childhood he had a sharp intelligence and was driven, restless and highly energetic. This was reflected in the huge number of appointments, speeches, overseas visits and organisations he was associated with. He was never cut out for a secondary role, made duty a pleasure and left the monarchy stronger while remaining totally loyal and supportive to his wife, the Queen. This knowledge and dedication was reflected in his active role in the creation of the new British coins.
He rarely pulled rank but was forthright in his opinions and general approval of the designs created by Machin and Ironside. His good relationship with the then Chancellor of the Exchequer and Master of the Royal Mint, James Callaghan, also enhanced the project. Dr Stocker's talk showed that relationships are always the most interesting part of any committee working on a project of local, national and global significance such as currency creation. Designs which reflected the diversity, history and beauty of the United Kingdom were essential for the coins to be widely used and appreciated. Dr Stocker's detailed research, including interviews with key figures and analysis of past correspondence, showed the key role Prince Philip and his personality played over many years.
Anabright Hay
Member