Posted on Thursday October 28, 2021
What a treat this event was on so many levels. Te Papa has a strong connection with Sandy Adsett, the artist, both in Te Papa itself and with works on loan to the exhibition; Toi Koru is curated by the wonderful Reuben Friend who was himself a Sandy Adsett student and I have personal memories of visiting Gisborne with Footnote Dance in the late 1990's and being at the polytechnic watching Sandy and his students in action. His passion, detail  and use of spatial definition really resonated with me and still does.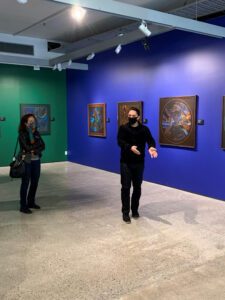 Toi Koru  is a thought provoking exhibition that sits in our history and across a timeline of significant change in our national artistic development and in particular that of Maori art. A time of taking ownership  and investigating work that speaks to us strongly and specifically as a nation. The inspiration and continuity of using the thread of kowhaiwhai patterns and investigating shapes that come from nature runs strongly through six decades of making and painting. There are eras of political opinion and times reflecting  personal loss. There are clear modernist  influences, from both New Zealand and internationally and a vivid colour palette that feeds his life and clearly shows in all his works. Strong bold walls in the Gallery show the works well and in every space there is a real sense of the present but also works showing influence of the past – honouring always what has gone before. The kaupapa is very powerful.
Curator Reuben Friend spoke eloquently and passionately as he took us through the exhibition. His anecdotes and stories of Sandy's career fitted alongside a very personal sharing with the artist. This covered the time when he curated Toi Koru and communicated with Adsett to weave the artist's wishes into the final result. Accompanying  the exhibition there is a beautifully presented book that I bought and have really enjoyed delving into. Thank you Reuben.
Toi Koru is a must see – make time to go to Pātaka  and take time to really immerse yourself in the colour,  the shape and the statement  of this influential and much respected artist and educator. Sandy Adsett worked here in Aotearoa and exhibited internationally – his legacy lies not in  art and the development of Maori influences in contemporary art on the canvas alone but also  significantly in a body of students who studied with him, toured with him, worked alongside him and have grown to be key practitioners today.
A strong voice in a changing world. His is a living legacy.
Nga mihi maioha ki te tahi toi rangitira ki tana atawhai me te mana
Deirdre  Tarrant
Member