Posted on Monday March 4, 2019
Valentine's Day, 14 February, was a night to remember for 33 members of the Friends of Te Papa.  This was the evening when they had the opportunity of exercising their artistic abilities at the first of the Friends' workshops for 2019.
It was a night full of fun, intense concentration, and ending with the delight of being able to take their artistic work home for others to admire.  Wine and canapés first, then Mark Stocker, Te Papa's International Art Curator, introduced the vividly coloured painting by Jenny Dolezel – 'The Game of Love'.  This was to be the challenge for the Friends – to paint their own version of this painting.
Many of those present had never painted, some had tried their hand at it with little success, whilst others knew the feel of a paint brush in their hand well.  All were led through the art of painting by Paintvine's own artist, Debbie Anderson.  Two hours of intense study of concentration, bold and delicate strokes of the brush, a top up or two of wine, and then it was 'brushes down' and time to sit back and admire their work of art.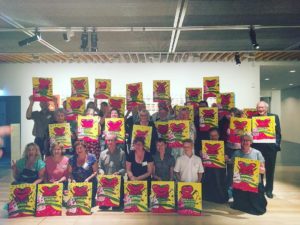 The result – a great picture of all our artists holding their paintings aloft for a photo to record the event.  A marvellous success and a happy, colourful group.  We do hope that the works of art are displayed with pride – they should be.