Posted on Wednesday April 3, 2019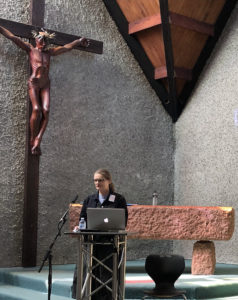 A splendid autumn afternoon blessed the Karori Modernism Tour, a joint fund-raiser between the Friends of Te Papa and the Friends of Futuna Chapel.  The event began in the Chapel, which responded with a blaze of resplendent colour on its pebble-dashed walls.  A moment's silence was held in remembrance to the shooting tragedy in Christchurch. Appropriate, as silence is the Chapel's raison d'être.
Associate Professor Julia Gately fired up the enthusiasm of the 100 plus modernist pilgrims as she explained the advent of international modernism in this country. In the late 1940s a group of young Auckland Architecture School students, among them Bruce Rotherham, formed the 'Group' and produced a manifesto with the mantra: 'Overseas solutions will not do. New Zealand must have its own architecture, its own sense of what is beautiful and appropriate to our climate and conditions'.
With a focus on the house that Rotherham built for his own family, where Julia and her partner now live, she explained the significance of building materials to the pioneers of modernism and how the expression of the materials' natural qualities, their response to new technologies and radical social ambitions underpinned the new worldwide aesthetic. Julia compared the ways that Rotherham used wood, glass, stone and clay, in response to Frank Lloyd Wright's essays, In the Cause of Architecture. She also pointed out the influence of other leading architects such as Le Corbusier and Alvar Aalto.
Charged with this frame of reference, four groups of inquisitive tourists set off on foot to explore four significant modernist houses; the 1952 Lang house by Austrian immigrant Ernst Plishcke, two Bill Alington houses, built 1962-64 and 1974, and the house Jim Beard designed in 1960 for his young family. Two of the houses are now listed as Heritage New Zealand Category 1 historic places.
At each house, its special aspects were explained and we were allowed to freely explore and enjoy their unique qualities. The afternoon ended with refreshments at the Chapel, where guests and owners were able to meet and mingle, and each owner thanked for their generosity and presented with books on John Scott or Futuna.
Many attendees expressed enthusiasm for further events, observing that Karori has many more examples of modernist architecture to explore. Our joint architectural walking tour was a huge success.
Dr Peter Parkes, Architect