Posted on Thursday May 26, 2022
Persistent myths and great art
Always attracting a large audience, 80 Friends were exposed to the underworld of art theft and the global illicit art trade by a presentation from our ever-popular speaker on art crime, Judge Arthur Tomkins.
Art stolen to order. Paintings ripped out of frames in broad daylight. Ransom notes. The myth of reclusive billionaire art collector thief. Venetian canvases ripped from church walls and cut into pieces to ship to the Louvre in Paris by order of Napoleon. Hitler stealing art for his personal collection. Nazis plundering art during WWII. Art gallery ram raids in Auckland not so long ago. These and more art heists were illustrated in Arthur's presentation.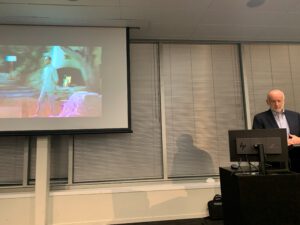 A number of films have featured stolen art storylines. The 1999 film The Thomas Crown affair stars Pierce Brosnan as a bored billionaire who steals Monet's San Giorgio Maggiore at Dusk from a reputed museum in Venice.
The James Bond movie Skyfall of 2012 depicts the theft of five paintings from the Museum of Modern Art in Paris in the daring so-called 'Spiderman heist'. Modigliani's Woman with a Fan was purportedly stolen to order for Asian clients.
Currently screening in Wellington, The Duke depicts the theft in 1961 Goya's portrait The Duke of Wellington from the National Gallery in London. It was the first (and remains the only) theft in the Gallery's history. In a clever movie plot from the 1962 James Bond film Dr No the missing Duke painting features in a scene where Bond meets the archvillain in his underwater hideaway and spots the stolen artwork.
Stolen artworks from masters including Raphael, Caravaggio, Vermeer, Rembrandt, Van Gogh, Cezanne and our own Lindauer still remain missing. How wonderful it would be to have these missing treasures returned to public view. Some artworks could well be destroyed; we may never know.
The Isabella Stewart Gardner Museum in Boston still displays two empty frames from a theft in 1990 where thieves made off with Rembrandt's only seascape Storm on the Sea of Galilee and Vermeer's The Concert. To this day, both remain unresolved thefts. It is unsettling that someone driven by greed and aesthetic desire is likely to be viewing these paintings today.
New Zealand is not immune to art theft with our biggest art heist in 1998 when James Tissot's painting Still on Top was stolen in a brazen theft from the Auckland Art Gallery. Wrenched from its frame in broad daylight in a matter of seconds, the thief fled on a motorbike. The painting was recovered 5 days later badly damaged and is now fully restored. The thief alleges he stole it to order.
In 2017 in a ram raid at an Auckland gallery, a pair of Māori portraits painted by Lindauer were stolen whilst on display prior to auction and are still unaccounted for.
The most stolen artwork is the European masterpiece by the van Eyck brothers from 1432 the Ghent Altarpiece which has been stolen 13 times but is now back in Ghent again albeit with one missing panel.
With the ongoing allure of coveting famed artworks for personal satisfaction and prestige, art crime is not going away any time soon. It remains to be seen which artwork is targeted next and if, or how, the thieves manage to get away with it.
Susanne Lang, Member