Posted on Wednesday August 18, 2021
About 20 Friends were treated to two curators' tours at the Dowse Museum in Lower Hutt. Director Karl Chitham took us through the Shane Cotton exhibition, Te Puāwai. Shane Cotton was born in the Hutt Valley, and had until recently lived in Palmerston North but moved to Russell in Northland in late 2019. His last major public exhibition was at Wellington's City Gallery in 2013, so it was interesting to see his more recent work.
He now has a smaller space to work in and this is reflected in a dozen small canvases on show at the Dowse. In addition, there are three large pou, originally posts from an Auckland building, painted on the front face; several larger canvases and a painted boat! Those who know his work will recognise some familiar motifs in his recent work, but also some new ideas and the familiar ones expressed in different ways.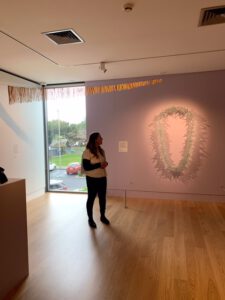 We then moved upstairs to the Blumhardt Gallery where the exhibition Breaking the bronze ceiling is showing and curator Sian van Dyk told us about a number of the works. This exhibition brings together sculptural works made by women from the Dowse collection – some of which haven't been seen for years. It is part of a series of exhibitions to celebrate The Dowse Art Museum's 50th Anniversary programme, which will explore different aspects from their own collection of about 3,500 works.
The first work encountered is a bronze sculpture by Tanya Ashken – it was the first bronze sculpture purchased by The Dowse and stood in the foyer for ten years, but has not been seen since. To get to the rest of the exhibition requires moving through (and hence touching!) a pink chain metal screen – an artwork by Ruth Buchanan. As the exhibition includes works collected over the last 50 years, some are early works by an artist who may now feel differently about the work. Many of the works also challenge what we think of as art, craft, and sculpture.
Our thanks to Karl and Sian for taking the time to give us such interesting views of these two exhibitions. The Shane Cotton exhibition is on until 14 November; Breaking the bronze ceiling finishes a week earlier on 7 November and both are well worth seeing.
Vivienne Morrell
Member