Posted on Friday August 5, 2022
If you haven't made it out to Upper Hutt to see the Carry Me exhibition of handbags which was curated in Italy and made its way safely here to Wellington, you will need to be very quick as it ends Sunday August 7th. 
Our group thoroughly enjoyed the informative, fact- and anecdote- filled  tour led by Whirinaki Director, Leanne Wickham. Handbags are familiar items to us; mostly utilitarian and a fact of life, but they did not emerge as desirable and useful objects all that long ago.. We all associate them with the (mostly) women in our lives, and as evoker's of memory. I am sure that you, dear reader, recall your first ever handbag, or one that you took to a ball, or that which dangled from the crook of a relative's arm. The Queen recently pulled a marmalade sandwich from one of her reportedly 200 Launer brand stash. What is in yours?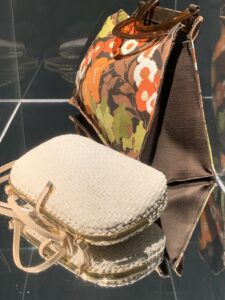 Handbags evolved as fashion changed. Now seen as fashion accessories, with a blend of art, craft, design, they can function as status signifiers and social currency. Materials have changed as availability and technology have allowed. Flat bottoms allowed them to be placed on the floor; shoulder straps allowed for hands to be freed. We saw bags crafted from beaded silk, from wood and from cane, from lucite (which gave off toxic fumes in the sun), from plastic coated feathers, and a single man bag in houndstooth. They have moved from being totally hand crafted, taking many many hours, and thus prohibitively expensive, to being mass produced, able to be made and sold anywhere in the world. From the post-war desire for femininity and a 'new look', to the 1990s glam rock and punk, handbags give visual representation to societal changes.
Some bags have become associated with those personalities and celebs who carry them – that favoured by Jackie Kennedy is now the choice of Kate Moss. Once handbags could be made more quickly, this was reflected by a decrease in cost of ownership. Luxury items are seen by the public on TV and in movies, on social media and in whole page photos in glossy magazines. Those in the exhibition are all privately owned. Leanne told us that when the freight boxes were opened, the bags were all in their original individual boxes and tissue.
She had asked us in the beginning Why Upper Hutt as a destination? Unlike many other touring exhibitions affected by covid disruptions these came by air quite easily, and they will now be quietly and quickly packed away to continue their journey, leaving us with the memory of a little glamour and some great stories.