Posted on Wednesday April 27, 2022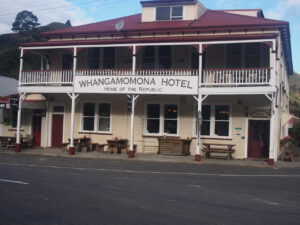 So the traffic lights are now orange. The Friends' programme will, as you will soon see, allow for more exciting events with larger numbers. Te Papa is again a clear attraction in the school holidays to judge by the number of school age children around the galleries but I am using the orange to go to Foxton where there is a new Ans Westra exhibition being opened and a sculpture by Leon van den Eijkel being unveiled. All part of the move to orange, no doubt.
But, with the Taranaki tour being postponed, it seemed a great idea to continue on and drive the Forgotten World Highway, which means visiting Taumarunui  – through which I slept fitfully on the limited express from Auckland to Wellington and back a number of times long ago when I thought the 'limited express' was named 'limited' because of the amount of sleep you got on it.
So was there, is there, a museum to visit in Taumarunui? Does it have Friends? So to Google, naturally, where there is a long story about the Taumarunui Museum Trust which was apparently wound up in 2019 with considerable acrimony. It had a building and a large collection but there were personality clashes. It now appears that there will be a new museum to be formed within a currently disused part of the large railway station. A Ruapehu Council meeting proposed this in 2017. But there is nothing to be seen on the web about progress. No doubt all one has to do is ask. Probably best done in Taumarunui.
Then there is the Forgotten World Highway, State Highway 43. Waka Kotahi has a newsletter on the project to improve it. It says on the 19th of April, just a few days ago, 'If weather permits, final sealing of the first 2km section of highway through the Tanagakau Gorge is scheduled to be undertaken on Thursday and Friday this week. This will complete stage one of the project. … Work to seal the remaining 10km section of highway is scheduled to get underway next summer.' Traffic is allowed through only on the hour and at lunchtime. It's the forgotten world after all except the roading gangs have to have lunch in the middle of it.
There are no instructions about masks in the forgotten world. I wonder if they are necessary in Whangamomona which has declared its independence from the rest of Aotearoa. I'll put one in the car door pocket just to be sure to avoid unpleasantness in the forgotten world.
Koenraad Kuiper.