Posted on Thursday May 26, 2022
As members know, Te Papa is not just a place to visit and see things, but it is also a research institution with much of the research going on behind the scenes in what is termed the back of house. As members also know, the Friends are there to support Te Papa (as it does us). That is done in a variety of ways. The newest of these is by the Friends offering research support grants. This year two such grants have been awarded in the natural history area and they show just how various research at Te Papa is.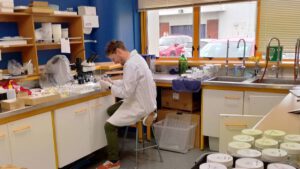 The first grant to Julia Kaspar and Anton Hovious supports a project on mosquitos. Mosquitos have a way of both extracting your blood (insect phlebotomists) and injecting you with bugs of their own (reverse innoculators). These bugs are not just the familiar malaria but dengue fever and various other diseases you would not want to have. New Zealand has its own local mosquitos which you are likely to have met but there are mosquito relatives from overseas which we would not want to see coming into the country. Te Papa has a collection of mosquitos. (Don't worry. Most of them are dead.) Understanding them better would enable the border to be more carefully protecting against their relatives arriving and interbreeding with the locals making them more dangerous to us.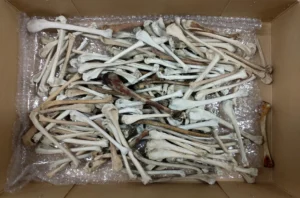 The second grant is to Rodrigo Salvador and Alan Tennyson. They are also looking at dead specimens but with a different end in view. At various times Te Papa has acquired collections made by others. One of these was originally acquired by Te Papa's predecessors: the Colonial Museum which became the Dominion Museum which became the National Museum and then Te Papa. It is a collection of fossils made by Augustus Hamilton. (You can tell how old the collection is by looking at the gentleman's given name. Who has called their kid Augustus in the last hundred years?) The Augustus Hamilton collection has spent a long time in boxes much of it uncatalogued and so unknown. Salvador and Tennyson aim to make these old bones better known and understood. They are looking through Hamilton's papers to see what he had to say about his collection and, using a forensic tool at GNS sciences, to see where they came from.
In due time, members will hear about the outcome of these two pieces of research. It is behind the scenes at this stage but, like all good research, will appear in public when it is completed thus again illustrating the joint benefit of the Friends supporting Te Papa and Te Papa supporting our members to achieve a richer understanding of what Te Papa is and does.
Koenraad Kuiper.
Images: Shag (Phalacrocoracidae) humeri bones in box 5/9. Photo by Rodrigo Salvador. Te Papa. Read more at The mystery of Augustus Hamilton's bird bone system | Te Papa's Blog