Posted on Wednesday December 1, 2021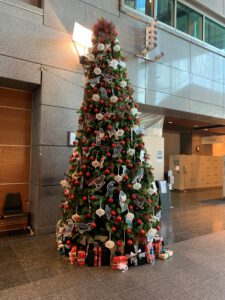 By now most of you, the Friends of Te Papa, will have had two vaccinations and happy to have had them (while waiting for the booster). On that less than cheerful topic, it would be instructive to compare the number of column inches which our newspapers have taken up with the miniscule enemy Covid and the number of minutes the television news has devoted to it. We have created a whole cohort of pandemic media experts in the process. But we are, for the most part, over it, if it isn't over us yet. We want to be able to see family during the holiday season, live and in full colour, which is better than having them on the screen while zooming. Zooming just isn't the same. You can't really smell a barbeque on zoom. The beach on zoom is as phony as any virtual reality. (Apologies to Mark Zuckerberg who probably does not have a barbeque.)
So, in so far as I can, in print, I wish you a non-virtual festive season, a real summer. May it be possible.
As far as we, your committee, are concerned, we wish ourselves, on your behalf, an easier year next year. As you know, so much has been cancelled, postponed, rescheduled, postponed again. The events team and office staff have done a wonderful job to give you as much of an interesting programme as possible.  Planning is going ahead on the basis that things will get less nervous, that we will not have to postpone and reschedule, in the hope that the traffic lights will stay green.
While that continues, Te Papa is open and has so much to offer. Try some of the quiet galleries, the back corners.
For all the support you and I have received from the committee and the office staff, I offer my sincere thanks.
With all good wishes for the coming year to you all.
Koenraad Kuiper