Posted on Tuesday January 29, 2019
Last Saturday afternoon the Icon venue was packed with people like me intrigued by the title of Lucinda Hawksley's talk on the prevalence and effects of arsenic in Victorian times. The words are part of a quote from the renowned textile designer and social activist William Morris, who initially used the vibrant colours from arsenic pigment in his iconic wallpapers.
By the mid-1800s the fashion for wallpaper had become affordable for many in Britain and arsenic was used extensively to produce the vivid greens, blues and other colours that adorned people's bedroom and living room walls. It was also present in furnishing and clothing fabrics, paints and food colourings, at the same time as being the poison of choice for rats and other vermin.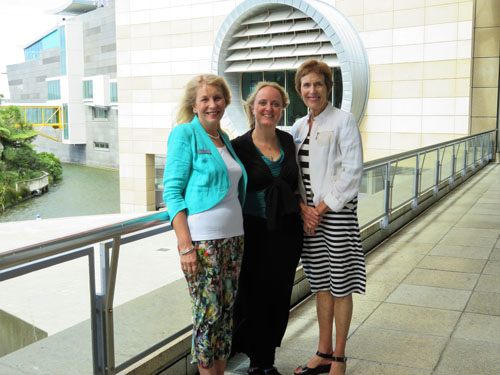 It took decades for the dangers of 'arsenic green' to be accepted, despite the deaths of young children poisoned by their nursery decorations, and of the artists and workers who produced them. William Morris himself did not give credence to the arsenic scare that he likened to the Salem witch-hunts, but was too good a businessman to keep using it in his wallpapers.
Lucinda also gave us fascinating anecdotes about notorious arsenic poisoners: Mary Ann Cotton, who is believed to have dispatched 21 family members, and Florence Maybrick, probably wrongly convicted of the death of her abusive husband who used arsenic as an aphrodisiac. What wasn't it used for!
This sell-out talk was a great opener for Friends of Te Papa events for the year.
Lucinda Hawksley is a British biographer, travel writer and author, and a great-great-great-granddaughter of Victorian novelist Charles Dickens. The illustrations above are from her beautiful 2016 book Bitten by Witch Fever – Wallpaper & Arsenic in the Victorian Home.
She is pictured here (centre) with the President and Vice-President of the Friends of Te Papa, Elizabeth Kay (left) and Jillian Wellings (right).
Ruth Payne
Member, Friends of Te Papa