Posted on Wednesday November 4, 2020
On a chilly Sunday morning 29 Friends of Te Papa boarded the boat to Mana Island, somewhat anxiously eyeing a threateningly grey sky. But the trip had been planned for months, then postponed due to Covid 19, and we were determined to go regardless. On landing, we were welcomed by Te Papa Curator of Vertebrates, ornithologist Dr Colin Miskelly, and Nick and Jen, the live-in Department of Conservation rangers who manage the island.
30 years ago, Mana Island was a grass-covered, bleak, windswept landscape, only a few native trees still surviving in sheltered gullies. The original forest was burnt off 400 years ago by early inhabitants. In the 19th century Mana, like Kapiti Island, was an important Māori settlement and trading post, and a whaling station. For much of the 20th century, it was leased as farmland. In 1972 it became a government sheep quarantine farm, until the flock developed scrapies and had to be destroyed. MAF then ran cattle until the late 1980s. When the cattle were removed, the mice population boomed, devastating the island's surviving skink colonies.
Since 1987, the Friends of Mana Island have achieved miracles. Within just ten years they had grown and planted 250,000 trees. Today, 500,000 trees later, Mana is an island paradise, home to a wealth of forest and sea birds, lizards and geckos, and thriving native trees and shrubs – though not in the case of the island's harakeke/phormiums.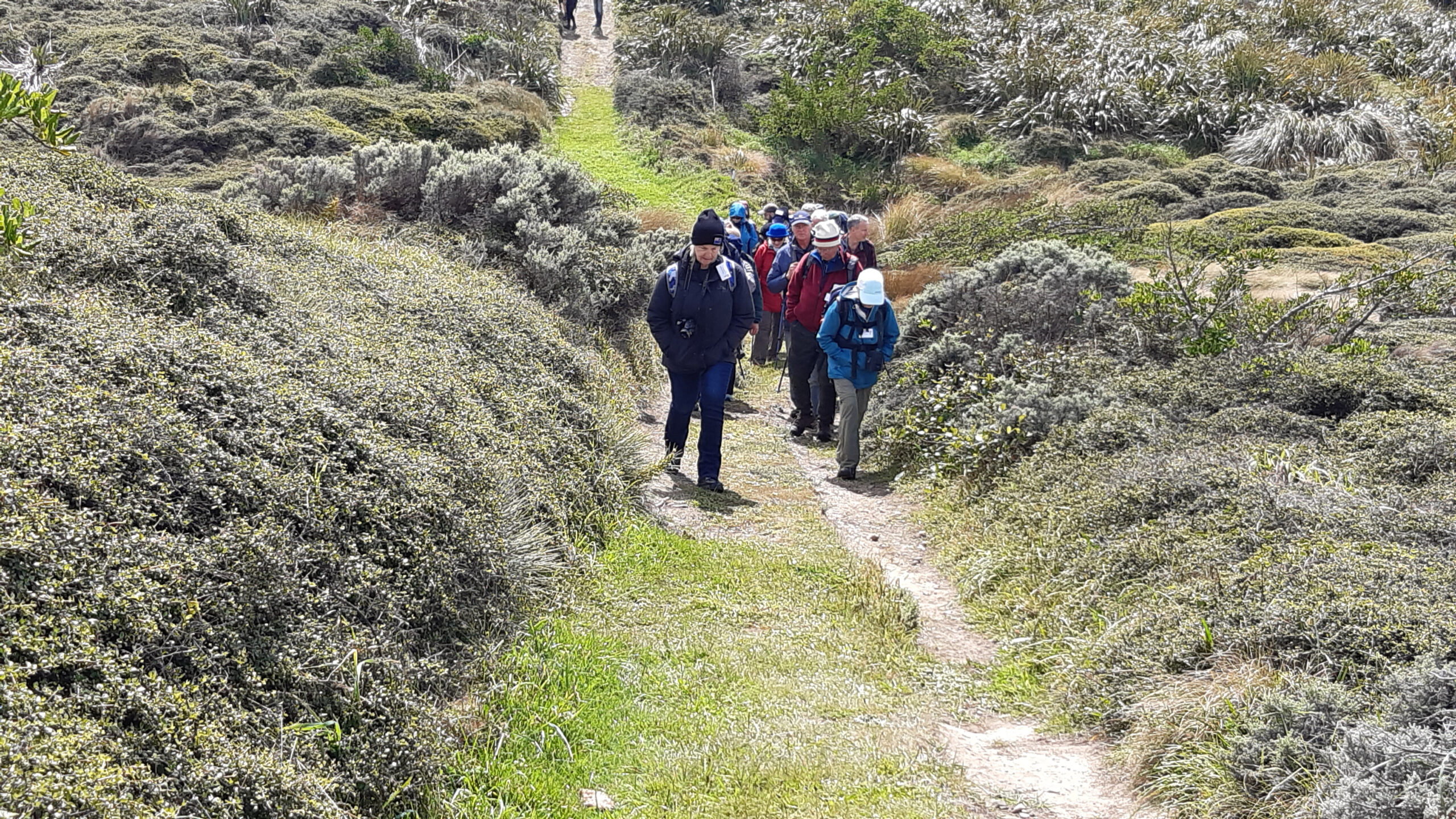 Mana Island never had rats or stoats, or opossums, but human intervention has resulted in a problem no-one foresaw.  In 2004, after the mice were eradicated, 80 adult flax weevils, a flightless beetle about 20 mm long, were translocated from Maud Island in the Marlborough Sounds. The weevils were nearly extinct throughout the country, but on Mana they have done so well that an ever-hungry army of flax weevils is now devastating the island's native flax. Colin told us the sound of 1000s of weevils munching away at night is like incessant raindrops. Their destructive presence is evidenced by deep scalloping patterns on flax leaves and chewed up flower buds. Underground, the weevil larvae chomp their way through the flax roots, causing the whole plant to collapse and die.
The weevils are changing the island's landscape and destroying an important source of nectar for the island's tui and bellbirds. But Te Papa and DOC scientists and researchers are working to find a solution, so look out for Colin's upcoming blogs on developments in this story.
Thank you, Colin, for a fascinating and hugely informative day on magical Mana Island. And Mana Island missed the rain!
Elizabeth and Crispin Kay
Members
Images from Mana Island Tour provided by Elizabeth & Crispin Kay