Posted on Wednesday June 22, 2022
Much anticipation preceded our visit to the 'Meet the Makers' Exhibition at the Katherine Mansfield House in Thorndon, Wellington;  the exhibition is curated by talented Wellington based clothing and textile historian, Leimomi Oakes.
Our very knowledgeable and engaging guide was House Director, Cherie Jacobson, who commenced her tour by taking us through the ground floor rooms: the Entrance Hall, the Dining Room, the Drawing Room, the Servery, the Kitchen and finally the Scullery, each room containing a rich collection of objects and furniture akin to those of a fashionable colonial home of the 19th century.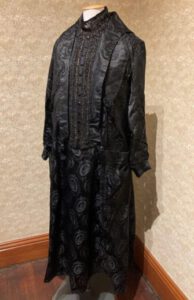 We then climbed the stairs to the first floor where the 'Meet the Making' Exhibition is housed in the Exhibition Room; Leimomi Oakes has selected textiles and garments from the House collection, highlighting techniques used to create them and offering the visitor a fascinating glimpse into the 19th century fashion world of their makers.
The signature items exhibited include a range of undergarments – an Edwardian corset cover and petticoat with pocket; a remade dress, a child's cape, a handmade blouse, an Edwardian blouse, as well as accessories such as a handbag and full length red stockings; it was well known that Katherine Mansfield loved fashion and this was often highlighted in some of her writing.
Also on this level, were other rooms to visit, including the Children's Bedroom, the tiny Night Nursery next door [which is thought to have been occupied by Mansfield's beloved grandmother] together with the Laurel Harris Room which houses an enormous timeline displayed over three walls, detailing the fascinating but tragically short life of Mansfield – she died aged 34.
Our sincere thanks to Cherie Jacobson who rendered us all captive with her detailed storytelling, and to Leimomi Oakes for her curating of such a magnificent exhibition which finishes on 26 June.
For your interest and enjoyment, here is a recent talk by Leimomi online.
Ann Walker,
Committee.
Images: A Walker.