Posted on Monday December 2, 2019
Tēnā koutou, Ngā mihi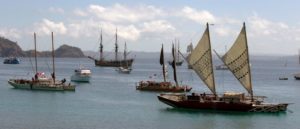 Wasn't it magical to see the Tuia 250 flotilla sailing into Te Whanganui-a-Tara, Wellington harbour, on a fabulous fine Friday afternoon. The magnificent three waka, the HMB Endeavour and the Spirit of Adventure were accompanied into port by a great fleet of canoes, kayaks, yachts, runabouts, a Navy frigate, and even a lone swimmer, while the Cook Strait ferries passed by.
This December brings the opening of Te Papa's exciting immersive summer exhibition, the magical and intriguing Wonderland, a brand-new exhibition developed in Melbourne by the Australian Centre for the Moving Image. Wonderland celebrates the rich screen history of English author Lewis Carroll's (Charles Dodgson) timeless stories. Alice's adventures on film have been the subject of more than 40 films and over 30 television programmes. Make sure to join us for the Friends exclusive Members Preview, Friday 6 December, from 2pm – 5pm. When you return from holidays with friends or family, remember to take advantage of the Friends concession price.
Thank you to all who have volunteered to promote the Friends during Wonderland. We are delighted to have your support and are sure you will enjoy meeting visitors to the museum. Thank you also to our team of talented volunteer writers over this past year. We have all greatly enjoyed your insightful and lively articles on our events. Click on Reviews, under the Features tab on our website, to discover more.
Make sure you join us on 12 and 14 December for our two final events in 2019,  to hear highly regarded lecturers from the UK – Dr Shaun Cole, of the Winchester School of Art, University of Southampton, on Collecting & Exhibiting LGBTQI Fashion & Dress, and Professor Christopher Breward, Director of Collection & Research, National Galleries of Scotland, on the History of the Suit.
With the Friends Committee, thank you for your enthusiastic support this past year. We wish you and your families a very happy Christmas and holiday season and look forward to seeing you in the New Year.
Ngā mihi o te Kirihimete me te Tau Hou
Nāku noa, nā Elizabeth Kay