Posted on Thursday November 25, 2021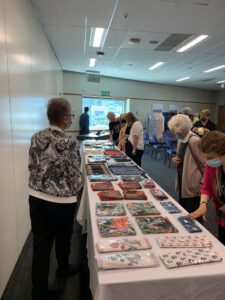 Shani Pillai and Joji Jacob have spoken on a few occasions to Friends of Te Papa and their presentations are always well attended and enjoyed by all. About 50 Friends attended this one. For several years they have taken trips to India and are passionate about supporting heritage crafts such as weaving and embroidery and the artisans who make them.
We first heard some history of the cotton trade between Asia and Europe – from the land and sea routes that were used by the Romans and Arab traders. Indian hand-crafted textiles starting dying out when England started producing its own cotton cloth. However, a revival occurred in the 20th century.
Shani and Joji then focussed on two particular types of heritage weaves that almost died out, but are now having a revival: Jamdani and Tangaliya. Jamdani was traditionally made in Dhaka, Bengal, now in Bangladesh – it is a very fine woven muslin. So fine, it was sometimes known as 'woven air'. Shani and Joji traced the history of it – known to be used in Egypt 4000 years ago, and prized by the Romans and French 18th century aristocrats alike! Tangaliya is a 700 year old tradition that comes from Gujarat on the western coast of India. It involves weaving in a knot of a contrast colour thread to give the effect of raised dots. Tangaliya fabrics were traditionally made from sheep's wool.
Shani and Joji are giving another talk on 12 December – this time focussing on arts in New Zealand as they haven't been able to travel to India lately.
Vivienne Morrell
Member