Posted on Tuesday August 14, 2018
Hot off Te Papa Press, Tatau is the culmination of a project which has engulfed Sean's life in recent years and that of Sébastien Galliot, a French Anthropologist.  It is a magnificent book, superbly illustrated and enhanced by essays contributed by photojournalists, writers, poets, artists, performers, spiritual commentators, futurists to name but a few!
Without a lecture note in sight, Sean, took us on an inspiring, informative and at times challenging journey through three millennia of Samoan tatau and its evolution from its mythical origins to the impact of globalisation.
Where did it originate? What does oral history suggest? What identifies a Samoan tatau of yesteryears and through the ages? What elements of this persist in those created today?  Who could be tattooed?  What was the nature of the hand held tools and pigments traditionally used in this exacting craft?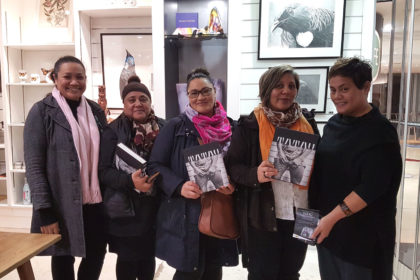 What impact has modernisation had on them? Who were the practitioners in society that were entrusted with the cultural mores and skills of tatau? What was the status of a master tattooist?  Who are today's tattooists? What rituals were involved? Are these retained today?
Even in the seeming isolation of the Pacific tattooists deftly adapted to new ideas that came with missionaries, soldiers, migrant and volunteer labour whilst retaining the traditional essence of a tatau.  However, in these times of tattooist conferences, conventions, films, etc there is even greater cross cultural exchange that raises issues about cultural appropriation further reflecting changing cycles of life.
It was a truly appreciative audience that celebrated the journey that Sean had so adeptly taken us on sharing his expertise, insights and passion.
Ann Hodson, Committee