Posted on Tuesday December 15, 2020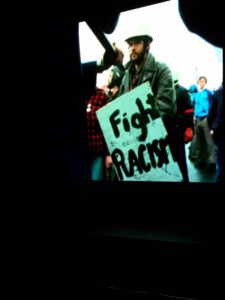 The name of this film compilation from Ngā Taonga Sound and Vision references 'the two waters'. It is inspired by the braided rivers that converge but still find ways to flow along their own path. Our organisations worked together to present it to members and their guests in Soundings Theatre, continuing the spirit in which the compilation was conceived;  as a partnership between the Ministry of Education and Ngā Taonga, who saw the Tuia 250 commemoration as an opportunity to share some of our country's unique stories.
The accompanying brochure to the film suggests discussion points, saying 'we hope these snippets excite your interest in learning more about our nation's history and help you have some honest conversations about Māori and European settlement of Aotearoa'. These include –  Who was behind the lens? What motivates the filmmaker? How/Why are New Zealanders portrayed in this footage? How do we perceive this footage today? What stories and people were less likely to be filmed?
These are all excellent questions. Part of the remit of today's cultural institutions is to draw attention to how our narratives have formed, and to gently nudge us toward asking ourself to examine how we feel about what is being shown to us. Watching footage of events such as the Springbok Tour protests, or the mass arrests at Bastion Point can elicit quite different reactions to us in 2020 than they perhaps did when viewed on TV news or reported in the newspaper at the time. The tone of reportage then, as now, serves to indicate what we should think. I found the range of short clips fascinating and my response to them veered from embarrassment at how we New Zealanders have behaved in our past, to pride at how we have worked together in times of harm, threats and adversity.
This film is available to watch on your device from home, via www.ngataonga.org.nz/ngawaierua
Sharon Taylor-Offord
Committee