Posted on Wednesday August 3, 2022
There are art galleries which hang pictures in historical sequence providing an illustrated art history. We had a great art history talk at our AGM.  There are artefacts which you can fit inside museums; there are artefacts which are too big to fit in a museum. The castles built in England in the reign of Henry II are too big. Other artefacts are too awkward. Classical Japanese gardens are too awkward. You have to visit them.
The current Robyn White exhibition at Te Papa, for which we have a Curator's Talk on Sunday September 18th with both Sarah Farrar and Nina Tonga,  reminds us of buildings which could not be housed in a museum. White thought they should be painted like the Maketu fish and chip shop and so that building became memorable as did Rita Angus's Cass station.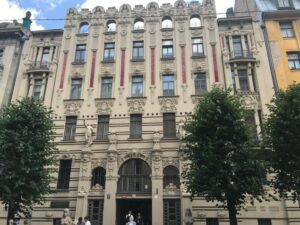 While such images give us facades, they are not the whole story. Think of the history of art deco and art nouveau architecture. All of us know of deco houses somewhere in our vicinity. The concrete block exterior, a rounded bit, a flat roof, glass block window. New Zealand has no great examples of art nouveau architecture. There are wonderful examples of houses in Antwerp and for apartment buildings you can go to Riga where, in a 20 year period, whole streets of art nouveau apartment buildings were designed and built.
There can be problems with such historically significant real-world museums. In Brugge, the old city is built around a central square surrounded by circular canals and confusing little streets so you can see the history of the architecture from the inside square out to the surrounding canals. We were asked by one couple who were clearly lost in the labyrinth where the exit was, presuming Brugge was a theme park, we suppose.
It was lovely to see those Members who attended the AGM last week in our building here on the waterfront. We have lots of new events on the programme for you to come back for.
Koenraad Kuiper