Posted on Thursday March 24, 2022
This exhibition was developed with works selected by Annika Sippel from the 339 works gifted to the National Art Gallery (now Te Papa) in 1957 by Archdeacon Francis Henry Dumville Smythe (1873-1966).  They reveal his wide-ranging taste – from the sentimental to the experimental, the amateur to the professional – and showcase the versatility of the medium.  Annika completed her PhD in Art History last year on this collection and the exhibition draws on her research, offering a glimpse into Smythe's eclectic taste.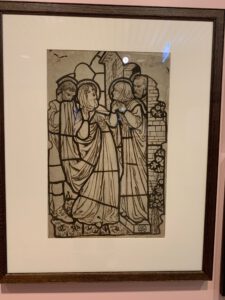 The wall text explains that watercolours depicting everyday life would have appealed to the middle classes of the Victorian era (1837-1901). Watercolour was wildly popular among British artists from the 1750s onwards. Capable of a variety of effects, it was used by innovative and traditional painters alike. Artists often used watercolour to experiment and capture impressions quickly. Sketches which were not intended as finished artworks became fashionable items for collectors in the late 1800's.
Dante Gabriel Rossetti's The Visitation ( design for stained glass window) 1861, inserted in this article, was created with brown ink and wash., and demonstrates how watercolour was used by artists to develop designs for stained glass and costume. Our main image is a close view of a witty contribution attributed to Eliza Sharpe in about 1836, and inspired by Charles Dickens' novel The Pickwick Papers. 
In her article for the Friends in February 2019 Annika wrote that 'the colours remain bright and lush, and the artist demonstrates great skill in handling the watercolour medium, using translucent washes for the landscape and sky to create atmosphere, while adding gouache (or bodycolour) in some areas, such as the dust cloud on the ground to emphasise the speed of the wagon, which appears to be almost tipping over as a result. This would explain the amusing facial expression of Rev. Stiggins, the figure sitting in the back of the wagon, apparently clutching on for dear life. Stiggins, easily identifiable by his large, red nose (sign of his love for alcohol), skinny stature, the broad brimmed hat, faded green umbrella and the chair, is a character from Pickwick Papers, a novel by Charles Dickens, issued monthly from April 1836–November 1837.'
You can see them on Level 5 of Toi Art until 29 June, and read Annika's recent blog post for Te Papa here.