Posted on Monday October 10, 2016
A recent half-day tour led by Dr Hamish Campbell, provided fascinating insight into the land in which we daily live without noticing it's hidden messages.
Thirty Friends equipped in wet weather gear and stout footwear departed for the first stop, Wright's Hill.  Wet weather gear was appropriate, and poor visibility prevented any observation by the group, but this was where the almost non-stop questions started which Hamish enthusiastically answered right throughout the tour.
Travelling on to Seatoun and the Wahine Memorial Beach in improving weather, we were set the task of determining the origin of the beach's shingle.  It came as a surprise, including the fact that debris from the Wahine wreck was still being washed ashore.  And all this was happening in our 15 metre deep flat floored self-flushing harbour.  A mud-less silt bottom.  If an inter-island ferry settled on the harbour floor, it's bridge would still be above water level! On the way to morning tea in Lyall Bay we were initiated into the geologists' silt scale which spans in many steps from boulders to clay.
Princess Bay is our best spot for fossil rocks.  Apparently we don't have many.  Hamish took a ton of these rocks to Oxford in order to complete his doctorate.  He did bring them back.
Our last stop was the Owhiro Quarry which provides dramatic display of our geological history.  There had been a preoccupation about earthquakes all morning.  Hamish's explanation as to what all those stripy cliffs meant in terms of quakes, continental drift, subtending plates, and sedimentary layers was a highlight well worth the short coastal walk.
Crispin Kay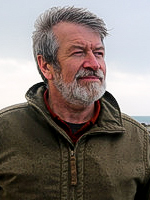 Dr Hamish Campbell  is one of two scientists from GNS Science in residence at Te Papa, and is usually at the museum on Wednesdays – an arrangement that's been in place since Te Papa opened in February 1998.  His particular expertise relates to the older rocks and fossils of New Zealand.  At Te Papa, he is partly responsible for our Awesome Forces exhibition and is often called upon as a subject expert for other exhibitions, including being curator of the touring exhibition Dinosaurs from China. He is co-editor and co-author of the book Awesome Forces – one of Te Papa Press's most popular titles.  He has for many years led tours to the explore the geology, culture and cuisine of the Chatham Islands.