Tour: The National Geohazards Monitoring Centre
Thursday 15 April 2021, 9:30 am

-

1pm
---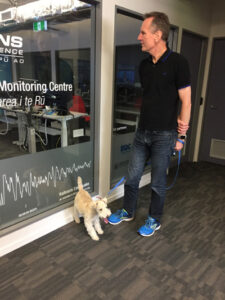 This tour is now sold out, email friends@tepapa.govt.nz to be added to the waiting list.
We are delighted to invite you to join us for a special Members Only tour of the NGMC at GNS Science in Avalon. The Centre, which opened in 2018,  builds on the service delivered by GNS Science and GeoNet for the last 17 years. The visit will begin with a whole group presentation which will cover the purpose and function of the NGMC, and we will then split into small groups tours each of 15-20 minutes duration.
The National Geohazards Monitoring Centre (NGMC) is a world-leading centre that monitors four perils that New Zealanders face: earthquakes, tsunami, volcano-related events, and landslides. The NGMC provides rapid and robust geohazards monitoring and advisory services to decision makers here in New Zealand.
Geohazards Analysts (GHAs) and they have their eyes on the screens around the clock. Working in three shifts over a 24-hour period the GHAs ensure that all events are captured. That means we have rapid event analysis and response initiation when required.
Events handled by our GHAs can be escalated to on-call duty officers. This enables a fast response to be initiated until the duty officer (who could be at work, at home, or even asleep!) can review. This means more eyes on the screen and a greater combined event response effort, ensuring we provide timely and reliable information after a geohazard event.
The bus will depart Te Papa at 9.50am returning to Te Papa at 1pm.

---
Member $35. Numbers limited. (incl. transport, tour and free parking)