President's Column: June 2013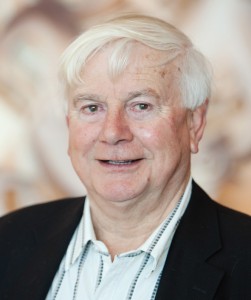 Tena koutou katoa
The season may have turned but the pace of Friends' engagement with Te Papa continues unabated. A good many members will by now have seen the reconfigured Ngā Toi I Arts Te Papa on Level 5 and the expanded range of work on display. The responses I have heard at the Friends' preview and subsequently have been almost universally positive with praise for the stimulating way in which the content has been selected, hung and interpreted so as to make new connections for visitors. Congratulations are due to all Te Papa staff who contributed to this project. I am sure too that Friends' members were equally gratified by pledges from the Board and the Director to continue with plans to expand significantly the space available to show more of the national collection.
Later in April, while some members were privileged to hear Judge Arthur Tompkins' full house lecture on art theft, another group of Friends embarked on the Christchurch Cultural Recovery Tour. The tour involved some complex organisation but we were well received and all events ran according to plan despite the difficulties posed by damaged infrastructure across the city. It was a sobering experience for tour participants to see at first hand the continuing day to day problems the people of Christchurch have to grapple with and we came away with a better appreciation of the psychological stresses which continue to be endured. In that context positive signs of recovery and determination to rebuild, like the Restart Mall and 'pop up' art installations are all the more important to community spirit. We also came away deeply impressed by the efforts underway at the Wigram Air Force Museum to store, catalogue and conserve cultural items from collections around the region which have been displaced by seismic damage. The Friends' decision in partnership with Te Papa's National Services and OMV NZ Ltd to help fund a Museum intern in conservation work at Wigram is undoubtedly a welcome and worthwhile project.
Looking ahead we have an exciting and busy programme being developed for Friends over June, July and August. It will include previews for the two 'block-buster' Warhol and Impressionist exhibitions, some related lectures, a number of group visits to galleries and museums in the region, opportunities to do some Back of House tours of selected Te Papa collections and, of course, our Mid-Winter Shopping Night. We are also planning soon to offer Friends a web-based version of Open Eyes for those who find it more convenient to go online to check upcoming events and dates and times.
All this is designed to present Friends with a cultural smorgasbord of events with a Te Papa connection and to make your participation both stimulating and straightforward. We hope to see many of you at these events over coming weeks.
Ngä mihi,
Gordon Shroff, President