Welcome Back to Toi Art!
View Lemi Ponifasio – MAU: House of Night and Day & Faka Tokelau: Living with Change
Wednesday 1 July 2020, 11am

-

12pm
---
As a celebration of the reopening of Te Papa we would like to welcome a small group of Friends to view 2 exhibitions in Toi Art on guided tours with our curators that you may not have got the chance to see before lockdown.
Nina Tonga, Curator Contemporary Art, will guide us through Lemi Ponifasio – MAU: House of Night and Day. Lemi Ponifasio creates large scale productions and installations which have pioneered a radical approach to art crossing boundaries of ceremony, philosophy, culture, activism, and performance. In this new installation, Ponifasio transforms Toi Art into an immersive live stage that acknowledges many years of MAU projects. Discover this amazing digital space with Nina as she explores Ponifasio's work and career over 30 years.
Rachel Yates, Curator Pacific Cultures & Athol McCredie, Curator Photography, will guide us through Faka-Tokelau: Living with Change. Explore Tokelau's unique way of life, faka-Tokelau, through the lenses of two New Zealand photographers. Glenn Jowitt who visited in 1981, and Andrew Matautia who visited 36 years later, in 2017. The 15 photographs on display reveal how change is constant on Tokelau's fragile atolls.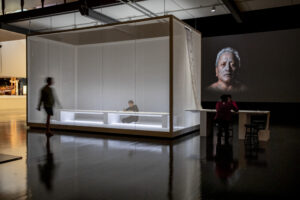 Nina Tonga is an art historian who specialises in Pacific art. Her current research focuses on contemporary Pacific art in New Zealand and in the Pacific, with a particular interest in internet art from 2000 to the present.
Athol McCredie's expertise is in New Zealand photography, particularly 1940 to the present. Current research includes the history of the museum's photography collection, the photographs of Māori and their treatment by the museum, and the personal documentary photography of the 1960s and 1970s.
Rachel Yates' personal kaupapa is to work alongside Pacific communities and advocate space for Pacific narratives and histories from within Aotearoa New Zealand and across the wider Pacific region. She's currently engaged in ongoing research of Pacific women and migration in the 21st century.
---
Includes free parking & 20% discount at Espresso