Tudor and Jacobean portraits
The materials and techniques used to create an English Icon
Tuesday 3 April 2018, 10am

-

11am
---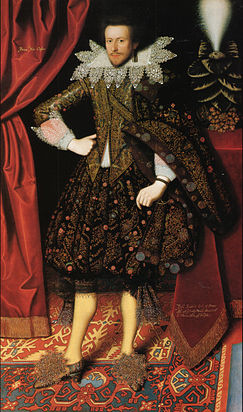 This lecture is a feast for the eyes! It describes the oil painting materials and techniques of the portrait painters of the Tudor and Jacobean courts in 16th and early 17th century England. Tudor and Jacobean painting methods originate in medieval manuscript illumination, miniature painting, ecclesiastical decorations and Northern European oil painting traditions.
Questions of attribution, before it became commonplace for artists to sign their works, the studio system of training young painters and the artists' meticulous paint handling in imitation of lustrous fabrics, lace, furs and precious jewels, are described and illustrated with unique macro-photographs and technical images such as X-radiographs and Infra-Red reflectograms taken from Sarah's own research and studio work as a painting conservator.
Changes in materials over time, such as fading and colour change of certain pigments, that have dramatically altered the way we now see some of these works are also revealed.
There is significant focus on the Jacobean court painter William Larkin (active c. 1609-19), whose elaborate full-length portraits are well-known to costume historians, on whose portraits Sarah Cove is the recognised expert. Larkin died in 1619, the year the Van Dyck first visited England. The point is not lost that Larkin's extraordinary portraits are the last flowering of the 'English Icons' so beloved of the Tudor and early Stuart courts, before the arrival of the great virtuoso painter who changed British portraiture forever.
Sarah Cove is one of Britain's foremost Technical Art Historians. Her ground-breaking study of the materials and techniques of Jacobean portrait painter William Larkin was published in 2012 by English Heritage. In 1986 she founded the Constable Research Project to study John Constable's oil painting materials and techniques. She is now the recognised authority in this subject and is a consultant to international museums, salerooms and collectors.
As a qualified Paintings Conservator Sarah works on paintings from all Schools but has significant experience with British paintings, notably portraits from the Tudors to the present, 19th and 20th century landscapes, as well as British and Continental oil sketches on canvas, paper and board.
Her publications include essays in the Tate Gallery's exhibition catalogues for 'Constable' (1991) and 'Constable: The Great Landscapes' (2006). In 2006 she co-led the Constable 'Six-footers' symposium at the National Gallery of Art, Washington D.C. and lectured at the Huntington Art Gallery, San Marino, California. Some of her TV appearances include: 'Constable in Love' (BBC2, 2003) and 'Fake or Fortune' (BBC1, 2013).
Feature image: Detail from Edward Sackville, later 4th Earl of Dorset, c. 1614, by William Larkin.

Presented in association with New Zealand Conservators of Cultural Materials Pū Manaaki Kahurangi (NZCCM)
---
Includes free parking