Pataka Revival Tour
Tuesday 10 July 2018, 10am

-

11:30 am
---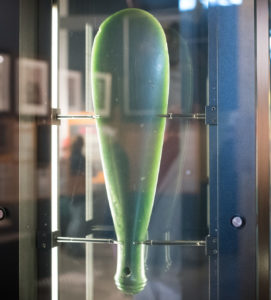 Join the Friends' tour of the new, exciting and varied exhibitions now showing at the refurbished galleries at Pataka Art + Museum.  Mark Hutchins-Pond, Contemporary Art Curator at Pataka, and Alice Masters, Social History Curator at Pataka will be our tour leaders for the morning.
We will see work by Damie Mellor, an award-winning contemporary Australian artist, and Owen Mapp, with a wonderful overview of his 50 years as an artist bone carver.  We will cover Whiti Te Ra, an exhibition which features unique taonga and charts Ngati Toa's story from the economic rise of the 1820's and 30's and the conflicts with the colonial government of the 1840's and 50's; and Puiaki, a display of  exquisite Waka Huia, carved wooden treasure boxes.
This will be a most interesting and relaxing tour of Pataka's galleries.  Following the tour we will be able to have a coffee or lunch at Pataka's cafe, Kaizen, which is situated in a sunny gallery atrium with views of Pataka's beautiful Japanese Garden.
The tour will commence at Pataka at 10am, please make your own way there.  There is parking available close to Pataka in the Te Rauparaha Arena carpark and it can also be accessed by train.  If you do not have transport to Pataka, please contact the Friends' office.  We will be able to arrange limited transport from Te Papa in private cars.
---
Guided tour with Pataka curators