Romans and Romantics: The Guildhall Art Gallery
London's real hidden gem
Sunday 12 May 2019, 4pm

-

5pm
---
In association with The Arts Society Wellington we bring you the second of our 2 collaborations of 2019 looking at Guildhall and Guildhall Art Gallery; the hidden gems in the heart of London's square mile.

In the centre of the City of London stands its ancient headquarters, the medieval Guildhall. The present building dates from 1411 and is still in regular use today.  The whole building stands on the site of London's Roman amphitheatre, only discovered in the 1980s. This lecture describes the Guildhall exterior and interior and then moves into the adjacent Guildhall Art Gallery.
The City of London has been commissioning and acquiring art for nearly 350 years and now owns a vast and diverse collection. We will look at paintings from the 17th and 18th centuries as well as the sparkling Victorian collection and 20th century works as we hear the stories that are not on the captions.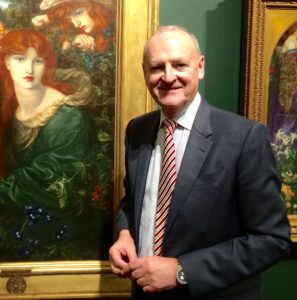 Ian Swankie is a Londoner with a passion for art and architecture. He is an official guide at Tate Modern, Tate Britain, Guildhall Art Gallery and St Paul's Cathedral, and gives tours at each venue. He is also a qualified and active freelance London guide and leads regular tours for various corporations and organisations. Six years ago, he established a weekly independent art lecture group in his home town of Richmond in West London, and he gives talks on a variety of subjects. He is an accredited lecturer for The Arts Society, and a Freeman of the Worshipful Company of Art Scholars.
Beyond Te Papa events are designed to share knowledge from our external relationships that either are recommended through museum staff or are related to museum content.
---
Includes free parking