Talk: Shaping Modernism at Te Papa
Research, Collecting and Exhibitions.
Thursday 26 May, 5:30 pm

-

7pm
---
Modern design builds on research, collecting and exhibitions. Te Papa has a strong collection of modern design, developed over the last 30 years. How did the collections arrive at Te Papa and how do curators work to interpret them? Justine Olsen looks at recent work on this subject that brings together international and New Zealand collections.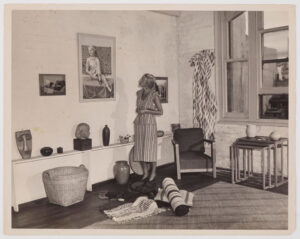 Justine Olsen's (Curator Decorative Art & Design) expertise lies in decorative arts and design, with particular reference to New Zealand, both historical and contemporary. Current research includes New Zealand's contribution to modern design during the period between 1930 and 1960 which will lead to a book by Te Papa Press on this subject.
(If you had booked and paid for a BOH Ceramics Tour in June 2021 – please contact the office and we will transfer your booking to this event if you'd like to attend)
Feature image: Detail from: Helen Hitchings inspecting a portrait of herself on display in her Gallery, circa 1950, by Photo News Ltd. (Wellington). Te Papa (CA000124/001/0060)
---
Member $25, Student $27, Non-member $30. Inc. light refreshments and free parking.